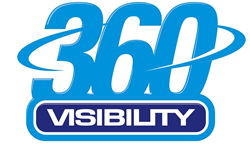 'As a Preferred Partner, we will have access to more of Dell's resources which in turn will allow us to better serve our customers and strengthen our relationships.' - Marco D'Ercole, Executive Vice President, 360 Visibility
Toronto, Ont., Canada (PRWEB) June 26, 2014
360 Visibility, Toronto's leading technology solutions provider, is now a Dell Preferred Partner.
Preferred Partner status is the second of three tiers in Dell's PartnerDirect program. This accolade will now allow 360 Visibility to become a serious player in mid-market server and storage solutions and provide its customers with more Dell products and solutions.
As a Preferred Partner, 360 Visibility will have Business Registration access giving the company more visibility and a greater scope in the market. 360 Visibility will also be eligible for the PartnerDirect Rewards Center and will have access to a channel Account Manager, an Inside Sales Team and certified Partner Resource Desk access, allowing for better customer service and less downtime.
In line with providing better customer service, as a Preferred Partner, 360 Visibility will also have access to units for customer demonstrations and a listing on 'Find a Partner' on Dell.com.
Furthermore, 360 Visibility will continue to receive benefits from Dell's Registered Partner Program, the first tier in PartnerDirect. With this, the company will have access to one-stop online ordering and account management through the Partner Portal; flexible partner and customer financing programs; access to pre-configured, customer-ready solutions (Business Ready Configurations); high-value, low-cost training; pre- and post-sale Customer Care support; product information and collateral; and access to Dell's online demos.
360 Visibility offers services for technology infrastructure such as hardware and software maintenance, cloud implementation and infrastructure support. As a member of Dell's PartnerDirect Program, 360 Visibility will expand its portfolio in order to provide valuable enterprise products and solutions to its customers.
"We are proud to move on to the next level of Dell's PartnerDirect program," said Marco D'Ercole, Executive Vice President, 360 Visibility. "As a Preferred Partner, we will have access to more of Dell's resources which in turn will allow us to better serve our customers and strengthen our relationships."
About 360 Visibility
Founded in 2003, 360 Visibility is a business solutions company based in the GTA. It is dedicated to enabling enterprise participants to make swift, well-informed and profitable business decisions. 360 Visibility helps companies See Clearly, and Act Faster.
Lynn Cooke, President and CEO, has been on Profit Magazine's Top 100 Women Entrepreneurs for six years in a row. 360 Visibility has also won Profit Magazine's award for 100 Fastest Growing Companies. The technology company is a Gold certified Microsoft Partner and the developer of 360 Property Manager, an accounting driven property management software developed using Microsoft Dynamics NAV.