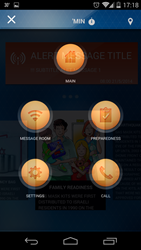 Internet based communication is the future and in time will surpass all existing communication methods.
Netanya, Israel (PRWEB) June 26, 2014
The IDF Home Front Command, Israel's civil protection, has selected eVigilo's SMART Internet as its public Internet based alert and notification system.
In frame of the public Internet alert program "iOref", eVigilo SMART Push and SMART PC will deliver location based alerts and notification in real-time to millions of smartphones and PCs.
iOref is the first national solution worldwide which will allow the dissemination of geo-targeted Internet based messages to millions of citizens within seconds.
The uniqueness of iOref allows the authorities to send alerts and notifications to a targeted area. Citizens who are in the targeted area will be alerted, in addition, even citizens who entered the alerted area after the message was submitted, will receive the alert as long as the alert is still relevant.
iOref will furthermore integrate with 3rd party navigation solutions to deliver real-time traffic instructions and navigation to the closest safe-point, thus facilitating rescue and evacuation efforts.
Apart from the possibility to transmit alerts to every citizen in the danger zone, the system offers the ability for a direct dialogue between the citizen and the authorities, without a broker and without additional cost. One of the unique features of iOref, is the duress reporting capabilities directly to the authorities. The citizens can activate a panic call, which will report the citizen's current location and status.
eVigilo CEO Guy Weiss has said: "As a world leader in the field of public warning systems eVigilo is proud to have been chosen to lead Israel's next generation flagship program for population alert and notification. It is commonly agreed that Internet based communication is the future and in time will surpass all existing communication methods."
Given high Internet penetration accompanied by continuously growing numbers of Smartphone users, the Home Front Command has realized that alert and notification over the Internet is a mandatory distribution channel to reach the majority of the population at any given location. Smartphones and PCs allow also interactive communication with inputs delivered from the population to the authorities to facilitate ongoing emergency management activities.
eVigilo SMART Push will deliver alerts and notifications to the population via dedicated Smartphone and Tablet applications available for iPhone, Android as well as Windows mobile devices. Messages will be geo-targeted in order to alert only the population in the target area. In addition the applications will offer interactive panic alert button that will allow the emergency management authorities to receive distress messages from the population at risk. The authorities will have the ability to send text as well as multi-media content in form of pictures and videos enabling not only alerts but also education of the population, thus facilitating emergency preparedness and improving the population's resilience.
eVigilo SMART PC is a desktop alerting application for Windows and MAC computers. Users who wish to receive alerts from the Home Front Command will get them directly to the PC screen.
eVigilo applications do not require registration. Citizens can remain anonymous without the need to disclose any user information.
About SMART
eVigilo SMART (Scalable Messaging Application in Real-Time) is a modularized multi-channel alert and notification platform for alerting the population and closed groups across fix & mobile networks, TV, radio, sirens and Internet. Given its modularized architecture, SMART can be tailored according to the requirements of the specific customer. Customers can select different setups and functionalities subject to communication channel availability and sizing. SMART is available on various levels such as SMART for Governments, SMART for Municipalities and SMART for Enterprises.
About eVigilo
eVigilo is a pioneer in the field of multi-channel alert and notification systems. eVigilo's population alert systems have been deployed worldwide delivering messages through a wide range of channels on national and regional scale. eVigilo is the only vendor worldwide whose national population alert solutions have been deployed by multiple countries around the globe. eVigilo is selected vendor of many governments, homeland security and rescue forces, municipalities, industry and public utilities.
For more information, please visit us at: http://www.evigilo.net Telephone: +1 415 992 7068
email: info(at)evigilo(dot)net