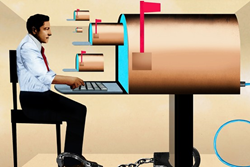 Montevideo, Uruguay (PRWEB) June 25, 2014
Email usage is "exploding," said Gloria Mark, a professor at the University of California, Irvine, who has studied how workers interact with the technology. Not only are workers wading through ever more clogged inboxes, they're also checking frequently, an average of 74 times a day, according to research from Prof. Mark.
The result: distracted workers. A 2012 study from Prof. Mark and several colleagues found that workers who were cut off from their email focused for longer periods of time, switching screens less frequently, and were less stressed, as measured by heart-rate monitors.
"It's really out of control," she said of email usage. (The Wall Street Journal, June 17, 2014, online.wsj.com/articles/a-company-without-email-not-so-fast-1403048134)
How To Encrypt Mail. End to End Encryption Combined with Fluid Metadata.
The anti-email Swiftcoin telegram, an encrypted email technology designed by Daniel Bruno, Chartered Market Technician, is the ideal replacement for outlook email, thunderbird email, yahoo email, the android email app and more. This top bitcoin competitor, in Beta since 2012, is the simultaneous answer to declining productivity and snooping by large technology firms. Swiftcoin is incredibly easy for anybody to download, install and use. Just click on the big horizontal bar at http://www.firstnationalbnak.com
Designed for point and click ease of use by anyone familiar with a computer, Swiftcoin installation is a snap. No sign up, no registration at http://www.bnak.tv New users receive a small sum of Swiftcoin, enabling an encrypted telegram and attachment to be sent to any other Swiftcoin user on the Internet. The cost is one tenth of a penny, or 0.001 Swiftcoin. When the recipient replies, the 0.001 is returned, for a round trip net cost of zero.
Encrypted Mail Servers and Attachment Encryption Make Back Doors Useless to Peeping Toms.
Swiftcoin is a decentralized, peer-to-peer program that relies on the collective network's proof-of-work to confirm authenticity and avoid the duplication of every message and transaction. Swiftcoin's 256 bit encryption is noteworthy in light of the lavabit episode and Orwellian metadata abuse by Internet giants. The Swiftcoin user can easily edit his metadata at will, e.g. have a different return address for every recipient, back up his wallet to a thumb drive and restore his messages and transactions at another device if the original wallet goes missing, e.g. device failure. The proof-of-work aspect of the collective Swiftcoin network will validate the back-up wallet and then, clone all the prior messages and transactions up to the present date and time. Free assistance is available at http://www.swiftcointalk.org 24 hours a day. Take a free test drive of Swiftcoin at http://www.firstnationalbnak.com/landing/
"There's an increasing sense that Google cannot be trusted with private data because they keep on getting busted for privacy infractions. So, I think it makes perfect sense that people will be doing this," said Milo Yiannopoulos, a technology journalist. (Voice Of Russia, May 24, 2014, voiceofrussia.com/uk/news/2014_05_26/ProtonMail-invented-because-Google-cannot-be-trusted-with-private-data-4719)
"There are some very, very clever people out there who want to get into your data. Some of them work for the Chinese government; some of them work for Google; some of them work for other private contractors. But there are also some very clever people who don't like the first set of people and who would like to set up systems that represent secure messaging.
"The point is that, because of the rate of technological change, this is a set of decisions and set of lifestyle choices that's effectively been taken out of our hands. So much of modern life is based on trust because we don't know how things work. Most people don't know how a car works, but that's not too much of a problem. It's a mechanical thing that gets you from A to B.
"But when we're talking about credit card details and sensitive emails, most of us have absolutely no idea how any of the systems that we rely on all day and every day function. And that is very disorientating and very debilitating for people.
"The good news is, there are big brains on both sides of the war and there are people out there building complex and interesting solutions to this problem. It does seem to me that there will always be niche solutions and it does seem to me that we need to address the problem."
Key Features of Swiftcoin

It's completely free
No advertisements anywhere
No tracking from Google Analytics or other spyware at all
Send and receive 100% encrypted mails and attachments from/to Swiftcoin addresses such as 6fe957046802d8d27989e4cfe168ee3e
Change your Swiftcoin identity at will without notice but still get all your messages
Remove your Swiftcoin wallet and mail from your computer, keep on a thumb drive, then use on another computer any time in the future
Get an infinite number of new Swiftcoin identities and delete old ones without losing old messages
Swiftcoin address book to keep track of who is who
No Proxy or TOR required
Access from everywhere.
Product reviews, commentary and debate are welcome at http://www.swiftcointalk.org