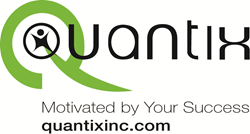 Atlanta, GA (PRWEB) June 25, 2014
Quantix, Inc. is pleased to announce the newest member of its Southeast Regional Office, Branch Manager Brian Bost.
"We are excited to have Brian as part of the Quantix team. The experience and leadership he brings to our Southeast Regional Office will be the foundation for our continued growth throughout the Southeast market," said Jill Reynolds, President and CEO of Quantix. "His network of longstanding business relationships has allowed him to have an immediate impact in the Atlanta market."
Brian is a seasoned staffing professional with vast experience, from owning his own firm to being recognized as a top producer with previous firms. Having worked as a Director of Marketing for Fortune 500 companies, Brian brings a wealth of experience that is valuable to Quantix as the Manager of the Southeast Regional Office.
"I am looking forward to the challenge of growing the Southeast Regional Office in the image of Quantix Headquarters!" said Brian Bost, National Account Manager.
Quantix is one of the nation's leading and fastest growing IT staffing firms, and one of the top companies in Colorado. ColoradoBiz Magazine also recognizes Quantix as a top Woman-Owned Business.
To learn more about Quantix, please visit http://www.quantixinc.com.
About Quantix, Inc.:
Since 2002, Quantix, Inc., a woman-owned corporation, has risen as a national leader in IT staffing and professional services. They deal openly and honestly with their clients and consultants, and have built a solid reputation for integrity and consistent quality. Their goal is to become a member of their client's team, understand their hiring needs, and deliver targeted talent and services at reasonable rates. Quantix offers a full range of technology staffing services, including contract, contract to hire, direct hire, strategic staffing, and executive search. They provide individual consultants and project teams to Fortune 500, 1000, mid-size companies, and governmental agencies across the country.