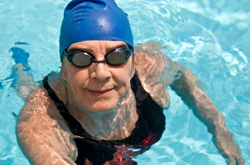 Neenah, WI (PRWEB) June 25, 2014
For women managing incontinence, summertime can seem stressful. Between lightweight, skin-baring clothing and an abundance of outdoor activities and events, many women worry about little bladder leaks and reaching a bathroom in time. By following two simple rules and using the right incontinence products, summertime living is easy, says Lynn Wilson, Founder of The CareGiver Partnership, a national retailer of home health care supplies.
"The first rule is to stay hydrated without overworking the bladder. Drinking the right amount depends on an individual's health condition and severity of incontinence, so it should be discussed with her doctor," says Wilson.
"Rule two is to avoid known irritants, especially before outdoor events where bathroom access may be limited," Wilson adds. "Irritants may include alcohol, caffeine, sugar and artificial sweeteners, corn syrup, spicy foods, and acidic foods such as tomatoes and citrus."
"And, in addition to following a few simple dietary rules, using the right incontinence products means women can wear summer fashions with confidence," according to Wilson. Here are two recent product innovations that are popular choices for women on the go:

Light bladder leakage is no reason to cover up or miss out on summertime activities. Fannypants is an innovative line of premium-quality, machine-washable panties for light incontinence. The SmartwearPanty designs look like high-end lingerie, yet feature a moisture-proof, stain-resistant gusset that holds an absorbent SmartPad. The panty can be worn with or without the machine-washable pad.
Just because a woman is managing incontinence doesn't mean she can't swim or participate in poolside or beach activities. SoSecure Swim Briefs are washable, reusable, absorbent underwear that can be worn next to the skin, under swimwear. SoSecure briefs are designed for bowel incontinence but also hold several cups of liquid.
To learn more about these and other products, visit The CareGiver Partnership home page and use our easy search bar or shop by category or brand. To access hundreds of free articles and more than 1,500 caregiver links, select "Resources" from the pink navigation bar.
The CareGiver Partnership is a national direct-to-consumer retailer of home healthcare products for incontinence, diabetes, nutrition support and more. In its eighth year of providing products and services that help caregivers and loved ones maintain personal dignity, the company also offers an online library of more than 1,500 family caregiver resources and personal service by experts in caregiving. Call 1-800-985-1353 or visit online at caregiverpartnership.com.