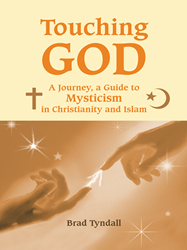 I want to bring understanding and harmony to a world fractured by religious and cultural differences – especially between Christian and Muslim countries
NEW CASTLE, Colo. (PRWEB) June 26, 2014
After the terrorist attacks in 2001, Dr. Brad Tyndall knew the Muslim and Middle Eastern students at his college campus could possibly suffer retaliation.
As a former Peace Corps volunteer who had had many life-changing experiences with kind and caring Muslims, he decided to present "The Loving Side of Islam" to provide a more educated and well-rounded picture of Islam and the Middle East to students at the college. The more Dr. Tyndall studied about Islam, the more he realized similarities between it and Christianity at their mystical core.
"At the heart of each is a human desire to connect with a loving God," Dr. Tyndall said.
Dr. Tyndall's presentation eventually became a book, Touching God. Through the exploration of new and ancient religious practices in Islam and Christianity, the book shows the author's personal journey toward an intimate relationship with God. By distilling the basic tenets and practices of the two religions, Dr. Tyndall finds they hold similar mystical treasures.
"I want to bring understanding and harmony to a world fractured by religious and cultural differences – especially between Christian and Muslim countries," Dr. Tyndall said.
For more information, visit http://www.mysticpita.com.
Touching God: A Journey, A Guide to Mysticism in Christianity and Islam
By Dr. Brad Tyndall
ISBN: 978-1-4918-7254-3
Available in softcover, hardcover, e-book
Available on Amazon, Barnes & Noble and AuthorHouse
About the author
Dr. Bradley Tyndall works at Colorado Mountain College and teaches Sustainable Economics. He speaks Arabic and has worked overseas in sustainable development in the Sudan, Northern Yemen, Kenya, and Tanzania. Dr. Tyndall has his Ph.D. from Colorado State University and was a Fulbright Fellow Economist and has worked as a Peace Corps volunteer and an economics instructor for U.S. Information Service and U.S. Agency for International Development. He currently lives in New Castle, CO with his wife Audrey, with whom he is building an international Facebook community called "Mystic Pita" for Muslims, Christians, and Jews.
# # #
For review copies or interview requests, contact:
Jaymie Shook
317.602.7137
jshook(at)bohlsengroup(dot)com