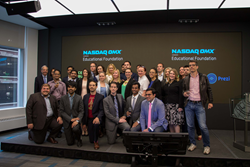 Brooklyn, NY (PRWEB) June 25, 2014
Educational Housing Services, Inc. (EHS), the leading provider of private, off-campus student housing in New York City, was proud to house the US-accredited Budapest-based Central European University (CEU) Business School's first month-long New York City program this summer at its St. George Residence located in Brooklyn Heights, New York.
Full-time and Executive MBA students who participated in the newly expanded program titled, "Lessons from a Global City – Reimagining Management and the Firm," spent a month and a week respectively in New York City, visiting companies and interacting with entrepreneurs, CEOs, and subject matter experts in a variety of sectors — from finance and real estate to clean technology and media. Some of the companies visited included Ernst & Young, General Atlantic, General Assembly, Brooklyn Grange, and NASDAQ OMX, where students participated in the "Your Move" New Venture Competition in partnership with Prezi.
Students provided weekly blog updates and presentations to reflect on and share with others how their interaction in NYC as part of this course affected their thinking and points of view about business, management practices, outlooks, and their own career. Shortly after returning from NYC, students will give final group presentations about key takeaways from their New York experience.
"It has been a pleasure to work with Mel Horwitch, Dean of CEU Business School. We are extremely honored to have this partnership with CEU, and thrilled to have been able to help give the CEU students access to this enriched academic and professional experience," says Jeffrey H. Lynford, President and CEO of Educational Housing Services.
Course creators, Dean Horwitch and Professor Bala Mulloth, Assistant Professor of Entrepreneurship and Innovation believe that the expanded "Lessons from a Global City – Reimagining Management and the Firm" program will increase CEU Business School MBA graduates' employment options, as well as professional and personal perspectives, by widening their network and deepening their understanding of international and American business, leadership, and management. This module was offered to CEU's 2013-14 full-time MBA class at no additional cost.
According to Professor Mulloth, the response to the entire course experience has been overwhelmingly positive, and the students' enthusiasm and desire to learn and interact with the best of the best in the business world played a key role in the program's success.
Central European University (CEU) is a US-accredited Business school located in Budapest, Hungary. CEU is organized as an American graduate institution, governed by a Board of Trustees. It was incorporated in the State of New York. The university has an absolute charter from the Board of Regents of the University of the State of New York for and on behalf of the New York State Education Department. Learn more about CEU at ceubusiness.org.
About Educational Housing Services:
Educational Housing Services Inc. (EHS) is a not-for-profit organization that has provided safe and convenient off-campus housing in New York City for college students and interns since 1987. The organization works with many academic institutions and corporations to provide housing for more than 10,000 students and interns annually, and also leases to individual students. EHS operates eight student residences in Manhattan and Brooklyn, each of which offers fully-furnished and amenity-rich accommodations that include 24-hour security, a live-in residential staff, laundry rooms, fitness facilities, and an active student life program. For details, visit studenthousing.org.