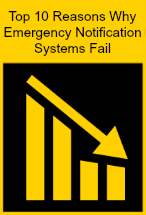 With so much on the line, make sure your ENS doesn't fail when you need it the most.
San Francisco, California (PRWEB) June 25, 2014
Regroup, the leading provider of Emergency Notification and Mass Messaging solutions, has published a must-read white paper entitled "Top 10 Reasons Why Emergency Notification Systems Fail." This free resource cites real life examples of Emergency Notification System (ENS) failure, along with an outline of the top typical, and not so typical, reasons why ENS's fail.
You can download their informative white paper by clicking here and if you have any questions about their white paper, please contact Regroup at the telephone number or email address listed below.
In a poll cited in Regroup's authoritative paper, an alarming 10% of users experienced ENS failure at least one time during a crisis situation - their hour of greatest need. To help organizations be better prepared, Regroup has included examples of appropriate measures that can be taken to better ensure Emergency Notification Systems function properly in a time of crisis.
Regardless of whether an ENS failure occurs due to human error, a technical glitch or simply not being prepared or properly trained, when an Emergency Notification System fails, it can have disastrous consequences. Understanding how, and why, they can sometimes fail is critical to successfully preparing and managing Emergency Notification Systems during a crisis situation.
About Regroup:
Regroup, the leading Mass Communication & Emergency Notification System, was founded at Stanford University in 2006 as a solution for the university's need for effective mass messaging across multiple communication channels, i.e., mobile (text/voice), landlines, email, social media, websites, forums and more. Regroup stands apart from other multi-modal mass messaging systems with its user friendly one-click messaging from a unified communication dashboard, integration with social media and client databases, unparalleled reliability and unlimited text/voice/email messaging. Regroup offers 24/7/365 day a year support and saves clients money - on average 50%. Currently serving government clients, universities, non-profits and businesses throughout North America, Regroup is actively expanding in global markets.
To learn more about how Regroup's Emergency Messaging and Mass Notification System can streamline your organization's Day-to-Day communications, as well as provide rapid communications during a crisis situation, please call 917.746.6776 or email inquiries(at)regroup(dot)com for a free online demonstration, customized for the needs of your organization.