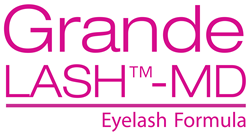 White Plains, NY (PRWEB) June 24, 2014
Grande Naturals, LLC is the leading provider of a specially formatted technology which offers a more natural and alternative enhancement solution for eyelashes. GrandeLASH™-MD has developed a lash conditioner, which is a safe formula containing many natural ingredients. GrandeLASH™-MD improves the appearance of eyelashes by advancing length and fullness within four to six weeks. Eighty-nine percent saw definitive improvement in the appearance of their lashes, while 68 percent saw an increase in the appearance of lash density.
Engineered with ingredients such as hyaluronic acid, which is a water-binding ingredient, and peptides, which are effective combinations of amino acids, the building blocks of protein, GrandeLASH™-MD also integrates Pantethine, which is an active form of pantothenic acid, also known as Vitamin B5, recognized to smooth the lash base. To condition and sheen lashes during the enhancement cycle GrandeLASH™-MD has added allantoin. This natural ingredient has been derived from the Comfrey plant which is known for its extraordinary healing, soothing and softening benefits and moisturizes eyelashes which offers a final coating to attain best possible results available in the market today.
Concurrently, Grande Naturals' product line includes GrandeMASCARA, a lash boosting and conditioning formula. GrandeMASCARA comes in black and brown and contains Sympeptide 226EL, an exclusive formula to Grande Naturals, made in Italy. This mascara offers a layer of silky smooth ingredients to lashes during the enhancement process. By using GrandeMASCARA in combination with GrandeLASH-MD, consumers can achieve the most optimal lashes conceivable.
"I've spent my career educating people about vitamins and skincare. I've hosted my own call-in radio show and answered thousands of questions. I saw a pattern when talking about lashes. I decided to take these questions and tasked my most trusted chemical engineers with a challenge to create these products. I am delighted to bring these solutions to the industry and consumers," said Alicia Grande, President & CEO of Grande Naturals, LLC.
Grande added, "I'm a busy mom, like many, with two boys. I needed safe products that worked and made me feel great about myself."
Opposed to other harsh medicines that are by prescription only, GrandeLASH™-MD offers an alternative, and non-invasion solution for enhancing eyelashes, with fewer side effects, at any age.
About Grande Naturals, LLC:
Grande Naturals, LLC is a parent company focusing on functional cosmetic products, including GrandeLASH-MD, GrandeMASCARA, GrandeLINER, GrandeBROW, GrandeHAIR and GrandeFACE Lift. GrandeLASH™-MD, was named the 2014 "Best Product" by Les Novellas Esthetiques & Spa as "Best Lash Conditioner". Additionally, GrandeLINER™-MD took home first place for Independent Cosmetics Manufacturers and Distributors (ICMAD) awarded the 2014 Cosmetic Innovator of the Year (CITY) Awards for "Best Product Innovation, Color Cosmetic". Grande Naturals, LLC and its products have appeared in Elle, Ladies Home Journal, New You, New Beauty, OK Magazine, Les Nouvelles Esthetiques, Dermascope, Los Angeles Times and many other publications within the Beauty Industry, as leading products of its kind. Visit http://www.grandelashmd.com to learn more.