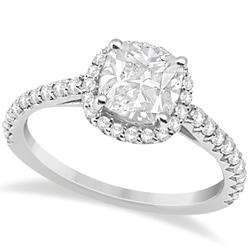 While the overall marriage rate appears to continue its decline, the jewelry business seems to be taking it in stride.
New York, New York (PRWEB) June 25, 2014
While the overall marriage rate appears to continue its decline, the jewelry business seems to be taking it in stride. Even with prices on certain commodities unpredictable, including the cost of diamonds and gold, the jewelry industry as a whole continues to see modest gains.
A spokesman for Allurez, a top rated online only jewelry store said, "Our costs continue to rise, but we have been absorbing the slight increases to appeal to an audience still set on proposing with a genuine, conflict-free diamond."
Conflict-free diamonds continue to be a huge factor when couples or individuals are searching for the perfect stone. The Allurez spokesman continued, "When it comes to diamonds specifically, not only do we demand that our diamonds come from reliable sources, we back it up with a full gemological report. We put our money where our mouth is and promise our customers a genuine diamond of the color, clarity, cut and carat weight listed and authorized by a GIA or EGL certificate."
As the average age of couples getting married rises, so does the amount spent on an engagement ring. This budget increase comes with a consumer who is tech savvy, using the internet to compare prices, look at multiple designs without a salesperson, and soak up tons of jewelry education along the way.
"At Allurez we have produced a complete education section to help those searching for information one easy to navigate place to find it. In addition our blog posts are designed to help consumers stay up on the latest jewelry trends. "
And although most brides still "want a ring on it," most of them want it to be a surprise. "In an effort to help men choose the perfect ring, at Allurez we have recently added a complete line of preset engagement rings. Each preset style includes all the diamonds already set into a choice of many styles from traditional to trendy. This takes the guess work out of choosing the right stone, since it's already set for you. This gives each groom a leg-up when it comes to selecting the ring that's as unique as the woman he's set to marry."
About Allurez.com:
Operating as an innovative and robust retailer and designer of exceptional jewelry from the heart of NYC, Allurez is recognized for providing the largest selection of designer style jewelry for men and women including engagement rings, wedding bands, bracelets, necklaces, pendants, earrings, and certified loose diamonds. Designed using the finest metals and gemstones, Allurez provides custom made jewelry for customers seeking the finest jewelry available.
For additional information about any of Allurez products including all customized jewelry, please contact Allurez.com or call 1.800.554.3509 for details.
Source:
http://www.jckonline.com/2014/06/12/diamonds-most-popular-jewelry-category-but-18-percent-bought-online-survey-finds?utm_source=JCK+eNewsletters&utm_campaign=592bc6c4fe-2014_06_14_Top_News_Saturday&utm_medium=email&utm_term=0_56301e74d4-592bc6c4fe-333963941