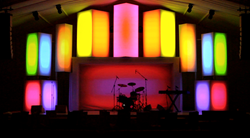 'For an immersive, transformative live experience, it doesn't get much better than this.' - J Matthew Nix, Project Lead for Chicago Projection Mapping
Chicago, IL (PRWEB) June 25, 2014
Chicago Projection Mapping (CPM), a Chicagoland-based content and 3D projection company, announced today the release of a new video documenting their "Live Transforming Stage" environment for live performance. Created for a private event, the stage showcases projection mapping as a transformative tool for creating one-of-a-kind environments for live music, presentations, and theater. The video is available via CPM's Youtube channel, and Chicago Projection Mapping is available for consultation regarding new applications of transforming stages starting today.
Commissioned to create stunning visual moments in conjunction with a live performer, Chicago Projection Mapping designed five separate stage "themes" for the event - custom-crafted animations, synchronized with a number of key moments and performances throughout the night. The stage, designed with visual flexibility in mind, was designed to effectively replace a traditional lighting configuration, and instead used visual interpretations of lyrics to create a synesthetic visual environment for the audience. Including themes ranging from fire and pyrotechnics, from liquid and the cosmos, to dancing swarms of spotlights, the stage featured over an hour of pre-animated and dynamically rendered content, and served as a centerpiece for the events of the night.
In addition to obvious implications for the entertainment and nightclub industries, the stage promises cutting-edge applications for corporate and theatrical implementations. For corporate events, brand launches, and keynote events, transformative staging can be employed to reflect changing branding and product releases. The implications for theatrical design are equally impactive, as a stage can now be "rebuilt" on the fly, allowing the scenery to become a more compelling reflection of the narrative and the director's vision.
"This is a performer's dream - a stage that can become anything, anywhere, in perfect synchronization with live music, theater, and presentation," said J Matthew Nix, Project Lead for Chicago Projection Mapping. "For an immersive, transformative live experience, it doesn't get much better than this."
Chicago Projection Mapping continues 2014 with upcoming permanent and limited-time displays and installations. CPM remains at the forefront of Midwestern projection mapping, including architectural projection mapping, projection for live events, 3D and 4D video mapping displays, and projection mapping for trade shows and corporate events. For inquiries or a free quote, please email info(at)ChicagoProjectionMapping(dot)com.
About Chicago Projection Mapping:
Chicago Projection Mapping (CPM), an Absolute Vision Media Inc. company, is among the nation's leaders in top-tier 3D and 4D projection mapping and video mapping services. CPM distinguishes itself above traditional AV and projection companies with a focus on future-proof, value-oriented projection solutions, followed with exceptional client service and unmatched creative content. Further, CPM takes a hands-on approach to developing never-before-seen implementations of mapping, including permanent installations in both residential and commercial spaces, and cutting-edge interactive applications of mapping through their research and development division, CPM Labs. From concept to completion, Chicago Projection Mapping is the preferred national and international partner for dozens of agencies, businesses, firms, and audio/visual companies alike. For more information and samples of work, please visit http://www.ChicagoProjectionMapping.com.