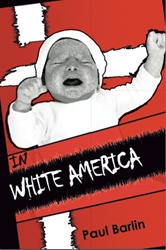 The courage and beliefs of my family together with the determination of the director of the Los Angeles County Bureau of Adoption changed adoptions proceedings in America forever
DENVER (PRWEB) June 26, 2014
According to the most recent Timing of Adoption survey by Adoptive Families, two thirds of newborn adoptions are completed within a year.
In the early 1950s, adoption agencies in the United States were only allowed to place babies in families of the same race. Paul Barlin and his wife, a Jewish couple, waited three years for a Jewish baby before pushing the Director of Adoptions to give them any baby, of any color, of any ethnic group.
In White America follows the family's journey through 1956, when the Paul Barlin family became the first white family in California to be given an interracial baby.
"The courage and beliefs of my family together with the determination of the director of the Los Angeles County Bureau of Adoption changed adoptions proceedings in America forever," Barlin said.
In the book, Barlin highlights social courage, race in America, and the idea that all men – and babies – are created equal.
"Having lived through the astounding racial prejudice against Jews and African Americans in America and worldwide, I felt Americans should know the history of how we broke the racial code in adoptions and changed the adoption practices forever in America," Barlin said.
For more information, visit http://www.iuniverse.com
In White America
By Paul Barlin
ISBN: 978-1-45024-140-3
Available in softcover, hardcover, e-book
Available on Amazon, Barnes & Noble and iUniverse
About the author
Paul Barlin and his wife, Anne, became the first couple to adopt an interracial child in California in 1956. Currently a resident of Colorado, Barlin is the author of six other books.
# # #
For review copies or interview requests, contact:
Jaymie Shook
317.602.7137
jshook(at)bohlsengroup(dot)com