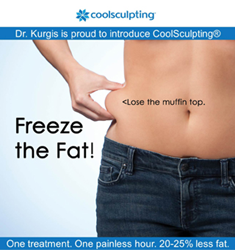 "CoolSculpting gently and effectively reduces stubborn fat in specific problem areas," says Kelli Van Housen, BSN, RN.
San Luis Obispo, CA (PRWEB) June 27, 2014
In spite of working out and maintaining a healthy diet, and sometimes there's still a pocket of stubborn belly fat that just will not go away. Plastic surgery requires a lot recovery downtime and is not a great way to spend a summer vacation.
But thanks to new medical advancements, there's no need to worry about squeezing into that bathing suit or taking unnecessary time away from work – CoolSculpting is the solution that, up until now, many have only dreamed of.
Now being offered at the office of Dr. Bradley Kurgis in San Luis Obispo County, CoolSculpting is a non-invasive, non-surgical form of body sculpting. Many Central Coast residents are raving about the results. The procedure has been featured in national publications and locally in the Paso Robles Daily News.
"CoolSculpting gently and effectively reduces stubborn fat in specific problem areas," says Kelli Van Housen, BSN, RN. "There are no injections involved, no downtime, and no activity restrictions after the procedure."
Created by two Harvard doctors, CoolSculpting uses advanced cooling technology to selectively "chill away" fat. Van Housen describes the feel of the procedure as cold ice on the surface of the skin. Special medical equipment freezes the fat cells directly below the surface area being treated, and once frozen the cells will naturally drain from the body.
Whether the goal is to get rid of love handles, a muffin top, developed and the number of treatments needed for desired results will vary with each ibra bulge, tummy pooch or other troublesome areas, results are noticeable after just one visit. In fact, most experience an average fat cell reduction of 20-25 percent in the treated area. Consultations are required before a treatment plan is ndividual.
"During a consultation, we will discuss a person's medical history, expectations, and body shape goals and make sure they are a good candidate for the CoolSculpting procedure," says Van Housen, a 10-year employee of Dr. Kurgis who, along with Laurie Wheeler, L.E., performs many of the treatments at the practice.
Last year, over 425,000 CoolSculpting treatments were performed worldwide. Recently, CBS News aired a segment on the CoolSculpting procedure. To view it, go to http://www.cbsnews.com/videos/freezing-fat-cells-coolsculpting-claims-to-remove-fat-without-surgery.
More about Dr. Bradley S. Kurgis, D.O., M.P.H
Dr. Kurgis has been offering advanced dermatology services, hair restoration techniques and body enhancement procedures for 20 years on the Central Coast. To learn more about CoolSculpting and other services offered by Dr. Kurgis and his friendly, professional, knowledgeable and experienced staff, stop by 1320 Las Tablas Road, Templeton, CA, call (805) 434-5563, or visit drkurgis.com.