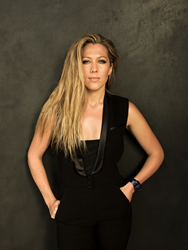 Vienna, Virginia (PRWEB) June 24, 2014
NEW SHOW ANNOUNCEMENT:
Colbie Caillat
Sunday, September 7, 2014 at 8 pm
Grammy Award-winning pop star Colbie Caillat returns to the Filene Center stage on September 7 for a season closing performance. Tickets to the show go on sale Saturday, June 28 starting at 10 am.
Caillat, who was last seen at Wolf Trap in 2012 in a co-bill with Gavin DeGraw, is a native of Malibu, California. The pop singer-songwriter debuted in 2007 with Coco, which included the hit single "Bubbly," charting at No. 2 on the Billboard Hot 100, and "Realize," that peaked at No. 20. The album was described as "sugary lemonade on a breezy summer afternoon" by AllMusic.com.
Calliat's laid-back vocal style has earned her numerous accolades, including the inaugural 2008 Rising Star Award at the Billboard Music Awards. In 2010 she took home her first two Grammys, the first for Best Pop Collaboration with Vocals for her duet "Lucky" with Jason Mraz, and the second for her collaborative work on Taylor Swift's Album of the Year, Fearless.
In 2013, Caillat teamed up with Gavin DeGraw to write the song "We Both Know" for the movie adaptation of the Nicholas Sparks novel Safe Haven. She is currently working on her fifth studio album and touring. Caillat delighted fans by releasing a surprise EP entitled Gypsy Heart—Side A on June 9, 2014. Her fifth studio album, Gypsy Heart, is scheduled to be released later this year.
Caillat's distinctive breezy, acoustic style draws from both her early brushes with music legends and her roots in the laid-back California surf culture. She displays her talent as a multi-instrumentalist and plays the piano, the acoustic guitar, and the ukulele on her four studio albums and two EPs.
Tickets for Colbie Caillat and the entire 2014 season are available at wolftrap.org, 1.877.WOLFTRAP, and at The Wolf Trap Box Office, located at Wolf Trap National Park for the Performing Arts, 1551 Trap Road, Vienna, Virginia 22182.
For the full Summer 2014 calendar, visit wolftrap.org/Filene_Center.aspx.
###