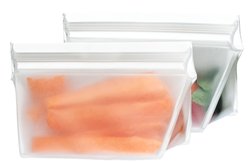 'Each (re)zip provides a functional alternative to the disposable plastic baggie,' said Allison Kinney, Reuseit Brand Manager.
Madison, Virginia (PRWEB) June 25, 2014
Reuseit.com, a company dedicated to providing eco-friendly products for every part of life, announces the exclusive launch of BlueAvocado's newest line of (re)zip™ reusable snack and sandwich bags. Each (re)zip serves as a sustainable replacement to disposable plastic snack bags. In celebration of the new line of the (re)zip seal and (re)zip volume baggies, Reuseit will offer their Instagram followers and Facebook fans the opportunity to win four sets of (re)zips.
Reuseit currently offers four sizes of the BlueAvocado (re)zip reusable baggies: (re)zip seal sandwich or seal snack, and (re)zip volume half-cup or one-cup. The price point for a 2-pack of each reusable baggie style is under $10. All of the bags are BPA-, PVC- and lead-free and feature the popular double-lock closure similar to disposable plastic bags. The bags are freezer-safe and are durable enough to store snacks, sandwiches and leftovers.
To promote the new product line, Reuseit will host a giveaway on Facebook from June 26 through June 30 and on Instagram from July 3 through July 7. Interested fans and followers can enter to win four sets of (re)zips via Reuseit's Facebook page (Reuseit) and Instagram handle (@reuseitstore). One lucky winner will be selected from each social media platform giveaway.
"Each (re)zip provides a functional alternative to the disposable plastic baggie," said Allison Kinney, Reuseit Brand Manager. "Whether you're traveling, camping, on a picnic or just packing a lunch, you'll save money and more importantly, decrease the amount of waste that ends up in our landfills."
Through product testing, certified B Corporation vendor BlueAvocado found that using 1 re(zip) at least twice a week can eliminate over 100 disposable plastic baggies per year—helping to reduce the country's water, petroleum and natural gas consumption while also limiting exposure to toxins like BPA, PVC and phthalates.
According to wastefreelunches.org, most families spend over $720 per school year to pack lunches with single-use items like plastic snack bags, plastic utensils and disposable napkins. The Clean Air Council further supports the wasteful and costly nature of disposable plastic baggies: the organization reports that even if a single-use plastic snack bag does qualify as recyclable, recycling one ton of plastic bags cost $4,000 on average and unfortunately the recycled product can only be sold for a $32.
About Reuseit.com:
Reuseit.com offers items for sustainable living, including the "best of the best" reusables to help eliminate disposables from your life—from bags and bottles to lunch, household items and beyond. By casting a critical eye and delivering facts and solutions, we continue to guide consumers to take little conscious steps that will lead to big environmental impact.