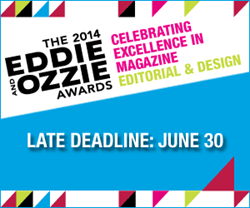 Norwalk, CT (PRWEB) June 25, 2014
Folio invites you to enter the annual Eddie and Ozzie Awards, one of the largest and most comprehensive awards programs in the magazine and digital media industry. The entry deadline is June 30, 2014 and winners along with honorable mentions will be honored at an awards luncheon on December 11, 2014 at the Yale Club in New York City.
For more information and a full list of categories, visit http://www.folioawards.com.
The Eddie and Ozzie Awards celebrate gorgeous design and uncompromising journalism being created every-day all in one awards program. More than 60 design categories and more than 90 categories for print and online editorial content make the Eddies and Ozzies the most robust and prestigious recognition program for consumer, b-to-b, association, regional and custom publications. Winners will be selected by a panel of over 150 judges representing the industry's best editorial and design experts.
To enter online, visit http://www.folioawards.com.
For questions regarding the Folio: Eddie and Ozzie Awards, contact Danielle Sikes at dsikes(at)accessintel(dot)com, 203-899-8433.
About Folio:
Folio: is a multi-channel resource for the magazine and online media industry. Our primary mission is to use digital media, print and events to help media companies solve business challenges. For more information, visit http://www.foliomag.com.