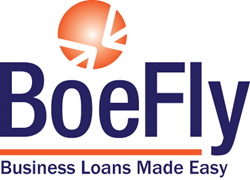 Dallas, TX (PRWEB) June 25, 2014
BoeFly, the premier online marketplace connecting small business borrowers with lenders and a strategic Ally of the International Franchise Association, announced today that Charles Patrick Meadows, a Papa Murphy's franchisee, secured a start-up loan from Cornerstone Bank in Atlanta, GA through a connection made by BoeFly.
Charles Patrick Meadows, a finance and business analyst with a background in account management and hospitality, was committed to opening a Papa Murphy's Take 'N' Bake Pizza Store in Texas. With Meadow's expertise, he knew that getting a restaurant start-up loan in this environment could be a challenge.
"Luckily, I chose to invest in a Papa Murphy's, which supports its franchisees in many ways—one important way is with financing. Papa Murphy's recommended I use the Papa Murphy's Finance Center powered by BoeFly in order to connect to a network of lenders and have the best chance of finding financing at competitive rates and terms," said Charles Patrick Meadows.
Meadows was connected with Doug Cullinan from Cornerstone Bank to secure the funding to open his first Papa Murphy's location. "I'm thrilled to have met Charles Patrick Meadows, a sophisticated entrepreneur through BoeFly. My bank is looking to grow and I regularly use BoeFly to efficiently find new borrowers. I look forward to financing more small business owners I find on BoeFly in the future," said Doug Cullinan, Southeast Region Director for Cornerstone Bank's Small Business Capital Group.
"The reason Papa Murphy's is so popular for new business owners is for the proven support and guidance we deliver. Papa Murphy's looks at financing as one of the key ways that we can help, which is why we partnered with BoeFly to be able to give our franchisees access to a network of 3,600+ lenders. BoeFly is available to both our first time franchisees looking to start-up, as well as to our multi-unit franchisees looking to expand. BoeFly has been influential in Papa Murphy's growth since we began our partnership a few years ago," said Kevin King, Chief Development Officer of Papa Murphy's.
"BoeFly was created to make sure business owners like Charles Patrick Meadows who are looking to start-up a small business, aren't hindered by the lack of access to capital," said Mike Rozman, Co-President of BoeFly. "Furthermore, the more efficiently business owners can secure the financing they need, the more jobs get created."
About BoeFly
BoeFly makes it easier to obtain small business loans by reducing the time, cost, complexity, inefficiency and frustration associated with small business lending. Its online proprietary matching technology connects small business borrowers with multiple lenders from among its more than 3,600 participating banks, based on the lending profiles provided by the banks and the information provided in the borrower's loan request.
Before seeking a loan business borrowers can find out their fundability and may get prequalified for a business loan through bQual™. The bQual™ report will deliver a business borrower's FICO SBSS Small Business Credit Score (used by lenders nationwide and required for SBA loans), a personal consumer credit score and credit bureau report, and a detailed financing assessment of a borrowers fundability.
Integrating the bQual™ scores into the loan seeking process on BoeFly, borrowers can connect with multiple lenders quickly and easily, providing a greater probability of obtaining a loan, as well as more favorable loan terms resulting from the creation of a competitive marketplace. Lenders benefit by being presented with those loan requests that fit their lending profile, dramatically lowering their cost and time of origination. BoeFly is not a broker. Borrowers pay a small one-time fee and lenders pay an ongoing subscription fee.
BoeFly, now a strategic ally of the International Franchise Association to expand credit access within the franchise community, offers a Franchise Solution bringing these benefits to the large and growing small business franchisee community and is the choice of more than 125 brands, including Dunkin' Donuts, Carl's Jr., and Kiddie Academy, among many others.
BoeFly was founded by small business owners and small business lending experts with extensive small business lending experience. The company is privately-held and is based in New York City. http://www.boefly.com.
About Papa Murphy's
Papa Murphy's is the fifth-largest pizza chain in the country and the pioneer and leader of the take 'n' bake pizza segment. Papa Murphy's operates over 1,300 franchised and corporate-owned locations in 37 states and Canada. The Vancouver, Wash.-based company offers custom-made pizzas featuring high-quality, fresh toppings generously layered on pizza dough that is made fresh each morning in each store. By baking Papa Murphy's pizzas at home, customers get to experience the home-baked aroma of a convenient, delicious meal that the brand is known for. In addition to handmade pizzas, the company offers a growing menu of take 'n' bake items, including Cheesy Bread, Cinnamon Wheels, and chocolate chip cookie dough. Papa Murphy's was recently voted "#1 Rated Pizza Chain" by surveyors in Zagat Survey's 2010, 2011 and 2012 Fast Food Surveys and is a four-time recipient of Pizza Today's Chain of the Year award. For more information, visit http://www.papamurphys.com. Find Papa Murphy's on Facebook at http://www.facebook.com/papamurphyspizza.