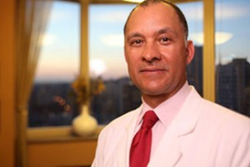 Dr. Delgado takes pride in having the latest in technology available to his patient's
San Francisco, CA (PRWEB) May 27, 2015
The world of cosmetic plastic surgery is constantly evolving. In Dr. Delgado's quest to remain on the cutting edge of all new developments, he redesigned his websites to spotlight the many new additions to plastic surgery and his practice. There is detailed information on gynecomastia and cosmetic surgical procedures, with emphasis on facelifts and mommy-makeovers all of which are his specialties. The contemporary design is very user friendly and easy to navigate. The sites have a vast amount of information on all cosmetic plastic surgeries and male breast reduction.
Dr. Delgado's main website has a new section that features the "Non-Surgical Center of Excellence." For the busy patient concerned about time out for recovery from surgery, there are now many non-invasive treatments available.
CoolSculpting is a non-surgical fat reduction treatment that patients are raving about. It is designed to remove stubborn fat pockets, but not large areas that are normally treated by liposuction. The cooling technology permanently kills fat cells that are shed by the body over a period of weeks. The non-invasive procedure allows patients to return to their normal activities right away with no downtime.
Another new treatment now available to Dr. Miguel Delgado's patients is the exciting Ultherapy, which uses ultrasound waves for tightening the skin of the face, neck, and chin in two hours or less. The new website has detailed information on how this amazing treatment can benefit patients who are looking for a non-invasive procedure that will turn the clock back.
The video gallery for the main website showcases consultations for breast augmentation, a patient's facelift experience which you can view here, and the exciting BBC production of a mommy makeover performed by Dr. Delgado.
Besides all of the exciting new procedures and treatments, Miguel Delgado, M.D. now offers his own label "DelgadoMD Premier Prescriptives." The superior skin care products include a full line of anti-aging serums and age reversing eye care cream for all skin types.
The newly launched Gynecomastia website focus' on the many variations of gynecomastia through captivating surgical videos, including "The Story of Three Men," over 500 before and after pictures of actual patients of Dr. Miguel Delgado, FAQ's, and in addition, assistance offered for out-of-town patients with a generous travel package.
Inspiring testimonials are posted on both websites of cosmetic plastic surgery patients who eagerly share their surgical and non-surgical experiences.
Miguel A. Delgado Jr., MD holds the two credentials most coveted by plastic surgeons practicing in the United States, namely certification by the American Board of Plastic Surgery and membership in the American Society of Plastic Surgery. He has his own fully-accredited surgery center and two offices located in the Bay Area, San Francisco and Marin. For more information, visit http://www.dr-delgado.com or call for a consultation at (415) 898-4161.