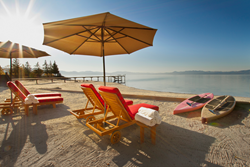 The next phase of Martis Camp will focus on expanding on our already robust stable of Club amenities, as we continue to add new offerings and priceless experiences for our families.
Truckee, CA (PRWEB) June 25, 2014
Martis Camp, North Lake Tahoe's premier luxury real estate community, will release its final phase of homesites this summer, The Lodge Estates. This last offering of 42 homesites, available for purchase beginning on June 28, represent some of the most coveted locations in the community. Along with the release, Martis Camp is primed for summer adventure with several new amenities that celebrate the Great Outdoors, including the anticipated opening of The Beach Shack at Lake Tahoe, the new Aerial Adventure Park and the Springs Pavilion and Park.
The Last Phase
The Lodge Estates release is the final chapter in what has been one of the most successful real estate sales stories in the last decade. Since launching sales in 2006, Martis Camp has grown into a community of more than 552 families, with 80% of its properties sold and more than 380 homes either built, under construction or in architectural design. Sales continued to thrive in the first half of 2014, with 65 property transactions totaling $131 million.
The 42 homesites in the Lodge Estates are each greater than an acre, many with sweeping views of the Carson Range, Martis Valley and Sierra Crest. Martis Camp's amenities, including the Camp Lodge and Family Barn, are a short stroll away and the open spaces connecting the homesites create a sense of serenity and privacy. Prices start in the $800,000's.
"We are excited to welcome the next set of Martis Camp owners with this new offering," says Martis Camp Sales Director Brian Hull. "This being our final release, the next phase of Martis Camp will focus on expanding on our already robust stable of Club amenities, as we continue to add new offerings and priceless experiences for our families."
New Amenities Come to The Camp
The Martis Camp Club lifestyle is defined by an incomparable array of family amenities within the gates of the 2,100-acre community. This summer, members will have several new options for spending the long daylight hours:
The Beach Shack at Lake Tahoe (Opening Summer 2014):
Located in Tahoe Vista just 12 miles from Martis Camp, the Beach Shack was thoughtfully designed to deliver easy, all-in-one private access to the summer pleasures of sand and sun at America's best known lake. Convenient features such as valet parking and towel service couple with everything needed for lakeside enjoyment – including kayaks, paddle boards, sand toys, chaise lounges and casual fare.
Aerial Adventure Park (Opening June 2014):
Taking full advantage of Martis Camp's towering Ponderosa Pines, the Aerial Adventure Park offers a zip line and treetop adventure course experience for all ages. Four different courses – ranging from an advanced course 30 feet off the ground to a "terra firma" course for kids ages four and under – will give members a new view of the community as they soar high above the forest floor.
Springs Pavilion and Park (Opening July 2014):
Centrally located within The Springs neighborhood of homesites, the centerpiece of the Pavilion is the 1.5-acre lawn and creek landscape. A bocce ball court, badminton lawn, and barbecues complete the park-like setting.
"The new amenities reflect Martis Camp Club's commitment to further enriching the lifestyle experience of our Club members, and complement the year-round lifestyle of the community," said General Manager Mark Johnson. "From day one it has been our goal to capture and perfect the four-season appeal of Lake Tahoe. We are excited to offer new places for our families to gather together and appreciate the simple pleasures of summer."
For more information on Martis Camp please visit http://www.MartisCamp.com or call 1-800-721-9005.
ABOUT MARTIS CAMP:
Martis Camp is a private gated community located between Truckee and North Lake Tahoe in the Martis Valley. Situated on 2,177 acres with sweeping topography, the land itself embraces the true essence of High Sierra living. A year round community, Martis Camp Club offers Club members private ski access via the Lookout Lodge and Martis Camp Express Lift to Northstar California™ in winter and a Tom Fazio 18 hole golf course in the summer. Martis Camp Club members enjoy a vast array of amenities including the Family Barn complex with swimming, a bowling alley, art loft, movie theater, indoor basketball court, soda fountain and outdoor performance amphitheater; an 18-hole putting park; Sporting fields and pavilions; Camp Lodge with dining venues, club spa and fitness center and vitality pools; Folk School; Lost Library; 26 miles of private trails for hiking, snowshoeing and cross-country skiing and a private mountain clubhouse at the base of Lookout Mountain. http://www.martiscamp.com