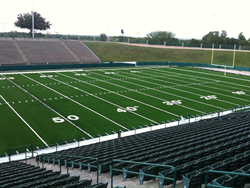 I was impressed with Hellas' professionalism and how they handled the install of the turf.
GRAND PRAIRIE, Texas (PRWEB) June 25, 2014
Grand Prairie Independent School District has prepared itself for upcoming seasons by replacing the existing synthetic turf earlier this summer at the historic Gopher-Warrior Bowl with Hellas Construction's Matrix® synthetic turf.
Four years ago, Austin-based sports contractor Hellas installed its Matrix® synthetic turf at indoor facilities in Grand Prairie. This summer, the school district decided to bring Hellas back to revamp the Gopher-Warrior Bowl at Grand Prairie High School with its Matrix® 46 oz. synthetic turf. The Gophers will have the privilege of playing on the same synthetic turf used in prominent stadiums like Dallas' AT&T Cowboys Stadium, the University of California at Berkeley, and the University of Texas at El Paso.
"I was impressed with Hellas' professionalism and how they handled the install of the turf. They were on time and kept the schedule they promised throughout. We have had nothing but compliments from people that used the turf," said Gary Bartel, Athletic Coordinator and Head Football Coach, Grand Prairie Independent School District.
Since the installation, Grand Prairie ISD has already held three football camps at the stadium, including Cowboys All-Pro Jason Witten's 2014 Citi Jason Witten Football ProCam. Coaches and players were impressed with the playability of the installed synthetic turf.
"One of the most truly historic stadiums in the Dallas Fort Worth area and one of the most popular venues for big play-off games!" said Randy Bullock, Business Development Manager at Hellas Construction. "Hellas Sports Construction is honored to have a relationship with the stadium staff, the Athletic Administration, and Grand Prairie Independent School District."
About Gopher-Warrior Bowl
The Gopher Bowl was constructed in 1956 in the northeast portion of the campus and hosts the school's home football games and soccer matches. Unlike many stadiums with "bowl" in their names, the Gopher Bowl is a true bowl-shaped stadium, situated below ground level. Since 1969, it has also been the site of the home football games of the South Grand Prairie High School Warriors. It was remodeled and expanded in 2003–2004 and re-dedicated as the Gopher-Warrior Bowl, to much dismay from Gopher alumni.
Grand Prairie Independent School District
Grand Prairie Independent School District is a 58-square-mile district serving more than 26,000 students within the Dallas County portion of Grand Prairie, Texas. The district boasts 39 campuses, including 25 elementary schools, seven middle schools, two ninth grade centers, three high schools and two alternative education schools.
About Hellas Construction
Headquartered in Austin, Texas, Hellas Construction is a nationwide contractor with a strong reputation for delivering premium-quality sports construction projects across the United States. Hellas has the ability to custom-manufacture and install proprietary brands of synthetic surfaces for field sports, running tracks, and tennis courts, by controlling all related operations. For more information, visit hellasconstruction.com and matrix-turf.com or follow them on Twitter and Facebook.