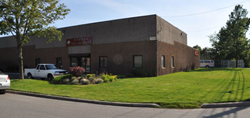 West Babylon, NY (PRWEB) June 26, 2014
With a history rich in experience and reputation, Nassau Fire Apparatus has made plans to expand the reach of their services outside of their usual New York and Vermont territory in order to serve a new customer base in the New England region. To initiate this expansion, Sonny Dove was recently hired to become the New England Ambulance & Fire Vehicle Remount Sales Representative. This position includes overseeing services in parts, refurbishing, ambulance remounts, and accident repairs in the New England area.
Having worked in the EMS field since 1977 and moving on to sell new ambulances in the New England region since 1992, Sonny is definitely no stranger to the emergency vehicle industry. Currently, Sonny works from his home office outside of Boston to drum up sales to be handled at the Nassau Fire Apparatus New York location. Nassau Fire Apparatus owner, Andy Buglione, is confident in this new partnership, stating, "With his experience in the EMS industry and his connections in New England, Sonny Dove is the perfect fit to help Nassau Fire Apparatus expand our services into the New England region. With department budgets being slashed left and right, we want to introduce the money-saving power of ambulance remount services to other areas, and we are confident Sonny can help us successfully do this."
The confidence in this alliance is not limited to Nassau Fire Apparatus personnel only. Drawn to the quality work and trusted reputation of Nassau Fire Apparatus, Sonny himself is eager to provide quality services to New England departments, saying, "My goal is offer the customer what I believe is nothing less than the best product and services. Nassau Fire Apparatus wants to expand, and I wish to assist them using my expertise."
Positioning themselves as a premier ambulance remount provider in the Northeastern region of the United States, Nassau Fire Apparatus is prepared to take on the challenge with a team of Certified EVT Technicians behind them. Along with the actual remounting process, Nassau Fire Apparatus can also easily make old trucks more environmentally friendly and safe with solar power charging systems, upgraded on-board electronics, and retrofitting advanced climate control with security controls for medical storage. Expanding these services into the New England territory is the logical next step for Nassau Fire Apparatus, an emergency vehicle services company on the rise.
If you'd like more information about this topic, or to schedule an interview with Andy Buglione, please call 631-254-1414 or email Andy(at)NassauFire(dot)com.