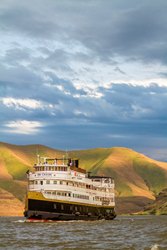 'This new itinerary dedicates more time ashore to visiting these wineries and enjoying expert wine and food pairings aboard the S.S. Legacy,' said Captain Dan Blanchard, CEO.
Seattle, WA (PRWEB) July 01, 2014
Oenophiles unite on a river cruise. Un-Cruise Adventures' 88-guest S.S. Legacy sails a new wine-centric itinerary on four departures along the Columbia and Snake Rivers in 2015. Departing roundtrip from Portland, the itinerary blends scenic cruising along four rivers with visits to nine wineries.
The weeklong Ameritage! Four Rivers of Wine & History itinerary is offered August 15, August 22, August 29 and September 5, 2015. The inclusive cruise features four rivers—Columbia, Snake, Willamette and Palouse—and highlights the burgeoning wine regions in Washington and Oregon including Walla Walla, recently named one of the top ten wine regions in the world. A local wine expert joins guests on board for the week leading presentations and wine tastings.
Tastings at nine wineries are included in the cruise fare. Wineries may include Springhouse Cellars, Maryhill Winery, AniChe Cellars, Bergevin Lane, Dunham Cellars, Terra Blanca, Sunshine Mill Winery and others. A visit to the Wine Shack in Cannon Beach includes tastings of Washington and Oregon wines. The Oil & Vinegar Bar nearby presents tastings of infused olive oil.
"The diversity of experience found in the Columbia River region is phenomenal – waterfalls, Lewis and Clark history, monuments and museums, rainforest and wheat fields, locks and dams, but also world-class appellations and wineries," said Captain Dan Blanchard, CEO. "This new itinerary dedicates more time ashore to visiting these wineries and enjoying expert wine and food pairings aboard the S.S. Legacy."
Highlights of the cruise include cruising through scenic Columbia River Gorge and visits to Hood River, Walla Walla, Astoria and Cannon Beach. Excursions explore towering Multnomah Falls, eclectic Maryhill Museum, Hanford Interpretive Center and Whitman Mission. A skiff ride travels into a scenic canyon to Palouse Falls.
On board, guests enjoy fresh, innovative cuisine paired with wines, tastings and engaging presentations. The 88-guest S.S. Legacy, a replica coastal steamer, emulates the steam ships found along the rivers in the early 1900s. Travelers enjoy the ambiance of an elegant coastal steamer with modern conveniences. Public spaces include a dining room, lounge with dance floor, wine bar and rollicking Pesky Barnacle Saloon. An elevator connects three decks. Wellness amenities include two hot tubs, a sauna, a massage, fitness equipment and yoga on deck.
Inclusive wine theme cruises offer on board interpretation by a heritage leader, a wine expert, and guided tours combined with innovative meals; premium wine, beer and spirits; all taxes and fees and transfers. Rates begin at US$3,695 per person, double occupancy. All winery tasting fees are included.
The 88-guest S.S. Legacy also sails a weeklong Legacy of Discovery itinerary on the Columbia and Snake Rivers from August-November 2014 and April-November 2015. Charters and group incentives are available. To book or to request additional information, contact your travel agent or Un-Cruise Adventures at 888-862-8881 or sales(at)un-cruise(dot)com.
###
Tweet: Rivers + Wine with @Uncruise! Sail along the Columbia & Snake #rivercruise w/ visits to 9 wineries.
Editor's note: Visit the Media Gallery for press materials and images. More high-res photos for editorial use are available through Sarah Scoltock at sarahs at un-cruise.com.
About Un-Cruise Adventures
Un-Cruise Adventures' yachts and small ships carry 22-88 guests on voyages in Alaska, Hawaiian Islands, Mexico's Sea of Cortés, Columbia & Snake Rivers, coastal Washington and British Columbia. Un-Cruise Adventures, under the parent company of InnerSea Discoveries Alaska Inc., is a member of Trusted Adventures, dedicated to the highest standards of small-group travel and to giving back to the places visited.