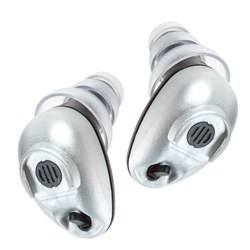 The Consumer Electronics Association Foundation (CEA Foundation) will feature a presentation by Drs. Mead Killion and Gail Gudmundsen of Etymotic Research at the Hearing Loss Association of America's (HLAA) Convention 2014 in Austin on June 26-29th.
Elk Grove Village, IL (PRWEB) June 25, 2014
The Consumer Electronics Association Foundation (CEA Foundation) will feature a presentation by Drs. Mead Killion and Gail Gudmundsen of Etymotic Research at the Hearing Loss Association of America's (HLAA) Convention 2014 in Austin on June 26-29th. Consumers with hearing loss, their families, the professionals who work with them and the press are invited to the event, which is billed as the largest communication-accessible educational program and trade show in the country for people with hearing loss.
The special session moderated by the CEA Foundation is titled "A Technology Symposium on Emerging Technology for People with Hearing Loss". During this session, Drs. Killion and Gudmundsen will present the long awaited next generation of Companion Mics® and The BEAN - Quiet Sound Amplifier®.
The new CM4 version of the original Companion Mics system allows up to four listeners and four talkers to converse easily in high-level noise. The CM4 system significantly improves speech intelligibility in adverse listening conditions. The first Companion Mics system had the unique capability of one Listener and three Talkers. The CM4 system increases the number of people who can benefit as Listeners.
The Quiet Sound Amplifier® also known as The BEAN®, is a direct-to-consumer, high-fidelity personal sound amplifier that automatically amplifies only soft sounds. Circuitry in The BEAN is based on the original K-AMP® circuitry developed by Etymotic Research, with wide-dynamic-range adaptive compression signal processing. In addition to processing high-level inputs without distortion, it has a 16-kHz bandwidth, which contributes to excellent sound quality and clear music reproduction. There is automatic high-frequency emphasis for soft sounds, which improves clarity for conversation, particularly in less-than-ideal listening environments. The BEAN also comes in a T-Coil model for use with hearing-aid compatible telephones and loop systems, improving hearing in reverberant conditions or when a talker is too far away to be heard clearly with amplification.
__________________________________________
Mead C. Killion, PhD, ScD (hon) is CTO and President of Etymotic Research. He founded Etymotic 30 years ago to design products that measure, enhance and protect hearing. Dr. Killion holds over 80 patents that cover directional microphones, high-fidelity earplugs, hearing aid circuitry, noise-isolating earphones, and otoacoustic emissions instrumentation. Dr. Killion is an adjunct professor of audiology at Northwestern University. He has lectured in 19 countries, authored 85 articles and written 20 book chapters. He is an accomplished choir director, violinist and jazz pianist. His current passion is flying a sport plane.
Gail Gudmundsen, AuD, has been the Managing Director of Audiology at Etymotic Research for over a decade. Her early work in audiology was at the two largest teaching hospitals in Chicago, after which she owned and operated a multi-office audiology private practice for twenty years. Her experience includes clinical audiology, teaching, research and organizational leadership. Dr. Gudmundsen served on the audiology licensure board and the state's first Hearing Aid Consumer Protection board in Illinois. Prior service includes the Board of Trustees of Salus University and the board of directors of numerous professional organizations.
About Etymotic
Etymotic is a research, development and manufacturing company that designs high-fidelity personal audio products and hearing wellness solutions to assess, enhance and protect hearing. For over 30 years, innovation and education have been central to Etymotic's mission. Etymotic is one of the most respected leaders in high-fidelity audio and hearing conservation.
For more information about Etymotic, its hearing wellness mission and its products, please visit http://www.etymotic.com.
About CEA Foundation
The CEA Foundation is a public, national foundation affiliated with the Consumer Electronics Association (CEA)®. It was established with the mission to link seniors and people with disabilities with technologies to enhance their lives. The Foundation is focused on strategic support of programs to impact these communities and launched its first series of grants in 2012. It also serves to facilitate dialog between industry, consumers, government, advocacy groups and other key stakeholders around important issues. For more information on the CEA Foundation please visit CEAFoundation.org.
Hyperlink to the CEAF: http://www.ce.org/foundation
About Hearing Loss Association of America
The Hearing Loss Association of America (HLAA), founded in 1979, opens the world of communication to people with hearing loss through information, education, support, and advocacy. In addition to the Convention, HLAA publishes Hearing Loss Magazine, produces the Walk4Hearing, and advocates for people with hearing loss. HLAA also has an extensive network of chapters and state organizations. The national headquarters is located at 7910 Woodmont Avenue, Suite 1200, Bethesda, MD 20814. Phone 301.657.2248 or visit http://www.hearingloss.org.