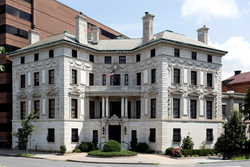 "It was a privilege to represent one of the most important and historically significant properties in Washington, D.C." Jonathan Taylor, TTR Sotheby's International Realty, Managing Partner and Founder
Washington, D.C. (PRWEB) June 25, 2014
TTR Sotheby's International Realty announced yesterday the sale of the 112-year-old The Patterson Mansion, 15 Dupont Circle, for $20 Million. This sale represents the highest residential transaction in Washington, DC in 2014, and the highest sale since 2011. TTR Sotheby's International Realty was the only broker involved.
SB Urban LLC purchased The Patterson Mansion and will be developing the property into luxury rental apartments.
The property consists of a 26,000 square-foot, four-story white marble and brick residence plus a 10,000 square-foot two-story addition built in 1956. It is situated on a one-third acre site at the corner of P Street and has housed The Washington Club since 1951. The mansion was designed by renowned architect Stanford White of the prominent firm McKim, Mead & White, and is the only remaining example of his work in Washington. The mansion was the vision of Robert Patterson, editor of the Chicago Tribune, and his wife, Elinor "Nellie" Medill Patterson. The family brought energy, money and power to Washington in 1901, and chose to build their home in the city's most fashionable neighborhood.
Early in the 1920s, the mansion passed into the hands of the Pattersons' daughter, Eleanor Josephine Medill "Cissy" Patterson, publisher of Washington's former Times-Herald newspaper, whose lavish parties and political connections ensured her home's reputation remained at the epicenter of Washington social life. In the summer of 1927, she offered her home to President and Mrs. Calvin Coolidge while the White House underwent renovations. During their residency at The Patterson Mansion, the Coolidges hosted aviator Charles Lindbergh following his famous transatlantic flight. When Patterson died in 1948, the mansion and its furnishings were bequeathed to the American National Red Cross, which sold it to The Washington Club in 1951.
The club, founded in 1891, was the first women's organization to be incorporated in the District of Columbia. The Patterson Mansion was designated a District of Columbia Historic Site in 1964, listed on the National Register of Historic Places in 1972 and became part of the Massachusetts Avenue Historic District in 1974.
Jonathan Taylor, Managing Partner and Founder of the firm shared the exclusive listing with Christopher Ritzert and Christie Weiss, both Vice Presidents at TTR Sotheby's International Realty.
As a Sotheby's International Realty affiliate, the firm also has the unique ability to refer its real estate clientele to the auction house for jewelry, art, unique furniture and collectible appraisal services. Property listings from TTR Sotheby's International Realty also are marketed on the sothebysrealty.com global website, as well as on the firm's local website, http://www.ttrsir.com.
TTR Sotheby's International Realty's main office is located at 1206 30th Street, NW Washington, DC 20007. For additional information, please contact 202-333-1212. The Sotheby's International Realty network currently has more than 14,500 sales associates located in approximately 700 offices in 52 countries and territories worldwide.