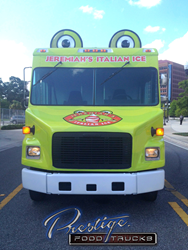 Prestige Food Trucks - Custom Food Trucks & Trailers Built With A Bite!
Orlando, Florida (PRWEB) June 24, 2014
Prestige Food Trucks brings Jeremiah's Italian Ice, a business based in Winter Park, Fla., closer to its goal of offering its tasty treats to every ice cream lover in Florida. Jeremiah's decided to build a one-of-a-kind food truck to bring its brand to life and create a closer connection with its ever-growing fan base. The truck's vibrant and charismatic look was designed to mirror the "Live Life To The Coolest" culture that reigns at Jeremiah's, and the final result won't disappoint.
"We've been working on Jeremiah's truck for more than two months and it's been a challenge to keep the project a secret. Everyone wants to take a picture when they see this bright, lime-green truck," said Jeremy Adams, owner of Prestige Food Trucks, the truck's custom manufacturer.
Jeremiah's truck participated in its first food truck event on June 23 and it's expected to participate in festivals, local fairs, sporting events, church events and private events such as weddings and birthday parties anywhere in Florida. The 16-foot food truck was built by Prestige Food Trucks and has a pair of captivating 3-D, light-up eyes on its roof, and a top-of-the-line interior that counts with all stainless steel walls, ceilings and countertops.
"Jeremiah's expansion has just become boundless. With this mobile truck we will be able to explore new markets and continue to strengthen relationships between brand and fans." Said Jeremiah Litwack, owner of Jeremiah's Italian Ice.
Jeremiah's has been steadily growing since its birth in 1996 and it's expected to enter the Jacksonville market and open two new locations this summer. Winter Park will continue to be home for Jeremiah's and their new food truck, but the strategy to bring the "cool" life to everyone within Florida boundaries has just been shifted into maximum gear. The company doesn't discard the possibility of "spreading its wheels" outside of Florida in the future either. But for now, if you want a taste of Jeremiah's you will have to visit sunny Florida.
For more information, follow Jeremiah's on Twitter @jeremiahsice to hear all about their food truck adventure!
About Prestige Food Trucks
Prestige Food Trucks is the world's leading custom food truck & trailer manufacturer. They're based in Orlando, Florida, but they will ship nationwide and internationally. Their commitment is to provide competitive pricing, top-notch quality and great customer service. Prestige Food Trucks also offers food trucks for sale, maintains, repairs, leases and rents premium mobile/food trucks to a wide range of clientele from sole-proprietors to nationwide chains.
More information about Prestige Food Trucks is available online at:

Financial capital for Prestige Food Trucks is provided by Prime Pinnacle, LLC, a private capital equity investment firm. Prime Pinnacle focuses on alternative capital investments. For more information visit http://www.primepinnacle.com.
If you would like more information about this topic, please call Jordan Schild at (888) 418-8855 or visit us on the web at http://www.prestigefoodtrucks.com
###