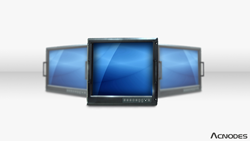 Chino, CA (PRWEB) June 25, 2014
Acnodes Corporation today announces the RM6380, an ultra rugged military grade 20.1" rack display. This LCD is engineered and certified to withstand extremely harsh environments, which is ideal for military mission critical applications. With its MIL-STD-810G compliance, it can survive wild temperature ranging from -4 ºF to 140 ºF. It also boasts of anti shock and vibration resistance, anti corrosion panels, fanless design and a military grade power connector that increases durability and provides longer life while reducing down time.
The RM6380 has proven to provide critical information on and off the battle field. With a 20.1 inch high image quality LED backlight LCD, you are sure not to miss any detail. This 9U rack monitor supports up to 1600 x 1200 pixels resolution, offers 16.7 million colors (True Color), and has an adjustable brightness level of 300 nits with a viewing angle of 178 degrees. The RM6380 also comes with anti-reflective glass protection and offers an optional 5 wire resistive type touch screen for easy control. In addition, this rugged design display has an option to enhance its front panel with EMI ITO glass coating for less electromagnetic interference should it be needed. This unit includes video connections for VGA, DVI-D, and BNC connectors. Other options and special configurations are all available.
For more information on RM6380, please visit RM6380 product page.
Our product line configurations are illustrated on our web site at Acnodes.com. However, most of the rackmount and industrial monitors are custom built to customers' exact requirements. Contact us via e-mail: info(at)acnodes(dot)com or telephone (1-909-597-7588) for more information.
Acnodes manufactures, designs, and markets industrial computers and display solutions for diverse industries ranging from automation to military. We have an array of technological innovations in the area of rack mount servers, embedded computers, Panel PC's and rugged monitors that create simpler and more valuable products to the customers. We work closely with our clients to customize computer products to meet their required projects and challenges. Acnodes strives to explore new technologies to better improve life and work.
Company Information:
Name: Acnodes Corporation
Address: 14628 Central Ave.
City: Chino
State: CA
Zip: 91710
Country: US
Phone: 909.597.7588
Fax: 909.597.1939
http://www.acnodes.com