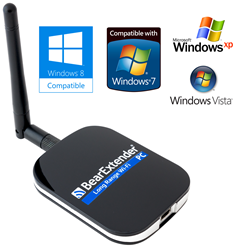 New York, NY (PRWEB) June 30, 2014
Quantum Networks, LLC (Inc. 500) and BearExtender, Inc. have reached an agreement granting Quantum exclusive distribution rights on BearExtender's award-winning line of long range and high speed Wi-Fi products.
"We are thrilled to bring BearExtender's innovative products to Quantum," said Jonathan Goldman, President of Quantum Networks, LLC. "BearExtender makes some of the fastest and longest range Wi-Fi upgrades, and our extensive distribution capabilities will help keep up with growing consumer demand."
In 2012, Strategy Analytics reported that 61 million US homes have Wi-Fi, and this number will balloon to 800 million worldwide by 2016. But many homes are too large for standard range Wi-Fi products to receive signals well, and the explosion of bandwidth-intensive services like Netflix are leaving consumers with very slow connections. This is evidenced by the increasing demand for BearExtender's long-range and high-speed Wi-Fi products.
BearExtender originally launched in 2009 to help students at University of California, Berkeley get stronger Wi-Fi connections to the on-campus network called "AirBears," hence the name BearExtender.
BearExtender's products have won praise from magazines and weblogs like PC Magazine and Engadget.com. Macworld called BearExtender's first Wi-Fi extender for Macs "a wonder," noting it could pick up Wi-Fi signals from four times as far as the built-in Wi-Fi card.
The BearExtender team is excited to be partnering with Quantum Networks. "Quantum is one of the most impressive companies we have seen," said Roland Saekow, Chief Product Officer at BearExtender, Inc. "They hold similar ideologies, like a core focus of putting the customers first, and a commitment to great products and concepts."
The BearExtender can be found here.
About Quantum Networks, LLC
Quantum Networks, an Inc. 500 company, is a New York City based digital solutions provider offering the latest technology through its distribution, business to business, GSA, and eTail divisions. The company specializes in bringing next generation technology to market and operates in both the United States and internationally. Quantum employs a full technical support staff to assist with solution-oriented purchases and is a GSA contract holder.
For more information, visit http://Quantum-co.com or call 1-877-259-4629.
About BearExtender, Inc.
More information about BearExtender is available at http://BearExtender.com.
Contact
For more information, contact Jacob(at)quantum-co(dot)com.