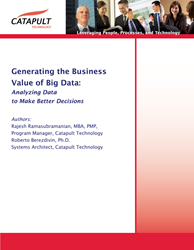 "Managing data privacy is both a technical and sociological issue. A solution should be addressed from both perspectives."
Bethesda, Maryland (PRWEB) June 25, 2014
Catapult Technology, Ltd., a leading federal government contractor that provides a wide array of information technology and management consulting services, announces the publication of a new white paper, 'Generating the Business Value of Big Data: Analyzing Data to Make Better Decisions.'
The paper was co-authored by Rajesh Ramasubramanian, MBA, PMP, Program Manager on Catapult's contract with the U.S. Department of Transportation Pipeline and Hazardous Materials Safety Administration (PHMSA); and Roberto Berezdivin, Ph.D., Systems Architect on the contract.
In the paper, the authors address questions that many organizations face today: How do you put captured and stored data to valuable use? How do you analyze it to make better business decisions?
Additionally, the authors present the "3 V's" that define Big Data (Volume, Velocity, and Variety); present a customer case study; and address security issues. "Managing data privacy is both a technical and sociological issue," say the authors. "A solution should be addressed from both perspectives."
Catapult's consultants can help clients collect, clean, and integrate unstructured data from multiple sources, while creating a road map that helps organizations realize their business value by deriving greater insights from their data, says Ramasubramanian. "Through Big Data analytics, the potential has never been greater to optimize business processes, to drive product and service innovation, and to enable enterprise controls," he adds.
Eric Brahney, Director of Corporate Communications at Catapult, says, "Catapult's consultants can help your organizations take advantage of Big Data technologies and build a culture that infuses analytics everywhere. This white paper helps position Catapult as a leader in data governance."
'Generating the Business Value of Big Data: Analyzing Data to Make Better Decisions' is available for free, instant download from http://www.catapulttechnology.com/big-data-white-paper/.
About Catapult Technology
Catapult Technology, Ltd. is a mid-tier consulting firm that provides a wide range of information technology and strategic consulting services to a breadth of federal civilian, defense, and intelligence agencies. Catapult was founded in 1996 and is headquartered in Bethesda, Maryland. It is a DC Capital Partners portfolio company. Learn more at http://www.catapulttechnology.com.