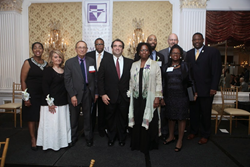 "...it's not okay to provide affordable housing for black and brown families only in communities with concentrated poverty, very high need and low performing schools; and it's not okay to maintain racially segregated schools." ~Elaine Gross
Syosset, NY (PRWEB) June 24, 2014
Connie Lassandro and Wilma Holmes Tootle, Benefit Committee Co-Chairs, welcome guests to the 2014 Annual Benefit on Wednesday, June 4th.
This event marked ERASE Racism's celebratory acknowledgment of the 50th anniversary of the Civil Rights Act of 1964. The recipients of the Corporate Leadership Award and the honorees who received the Abraham Krasnoff Courage & Commitment Award expressed their pleasure and gratitude for this recognition.
ERASE Racism Board of Directors Co-Chair Howard Glickstein introduced John Elliot Simpkins, Director of Talent Acquisition & Special Projects at Henry Schein, who accepts the ERASE Racism Corporate Leadership Award on behalf of Henry Schein.
In his remarks, John Eliot Simpkins said that the Henry Schein Company is "deeply committed to acting as stewards...closing the gap for quality healthcare to underserved populations..."
Eric Bluestone, Partner of The Bluestone Organization, accepts the ERASE Racism Corporate Leadership Award for his company and highlighted that for three generations, The Bluestone Organization has made it a priority to provide affordable, mixed-income housing and economic development opportunities through sustainable and environmentally conscious development.
Vincent Southerland, Senior Counsel, Criminal Justice Project, accepted the Abraham Krasnoff Courage & Commitment Award on behalf of the NAACP Legal Defense and Educational Fund, Inc. and drew parallels between the NAACP, LDF, ERASE Racism, and other Abraham Krasnoff Courage and Commitment Award honorees by pointing out that "we [all] work in fair housing, education, and public health... to achieve racial justice and equality by forcing America to live up to the constitutional promises made by its founders."
Craig Gurian, Executive Director of the Anti-Discrimination Center, accepted the Abraham Krasnoff Courage and Commitment Award for his organization and spoke about the "radical change" in how the word "community" is used today as opposed to decades ago when it was a more inclusive term. He gave a call to action for corporations and organizations to cease and desist from being "too cautious, risk-averse, or focused on maintaining their own place" and instead to be "fierce" and courageous as they embrace a "true movement to integrate humbleness... and sharing into [their] politics and interactions."
Barbara R. Arnwine, President & Executive Director of Lawyers' Committee for Civil Rights Under Law, gave a spirited speech after her organization was honored with the Abraham Krasnoff Courage and Commitment Award in which she reminded the audience that in addition to it being the 60th anniversary of Brown v. Board of Education and the 50th anniversary of the Civil Rights act of 1964, it is also the 50th anniversary of Freedom Summer. She underscored the importance of paying homage to those who sacrificed their blood, sweat and tears such as Fannie Lou Hamer, Medgar Evers, James Earl Chaney, Michael "Mickey" Schwerner and Andrew Goodman because they "made all these laws possible." Ms. Arnwine remarked upon the extraordinary accomplishments of the ERASE Racism Legal Action Fund. In highlighting an array of local fair housing lawsuits, she cited the protracted housing discrimination case filed against the Village of Garden City. Ms. Arnwine recognized the tireless efforts of the plaintiffs' litigation team in MHANY Management Inc., et al. v. Garden City to secure affordable housing in a non-discriminatory manner. By reflecting upon the favorable outcome of the Garden City decision, Ms. Arnwine noted that such findings were, "a rarity in the decision in defining that Garden City had intentionally discriminated."
ERASE Racism President Elaine Gross stressed the urgent need to address structural racism on Long Island. She inspired the crowd as she drew attention to the fact that "when measuring black/white residential segregation for the Nassau/Suffolk County region, as measured by U.S. Census data, Long Island ranks in the top ten most racially segregated regions in the country." She pointed out that "on Long Island we are more segregated by race than by income," as shown in research by renowned Brown University Professor John Logan, and that "affluent blacks live in neighborhoods with just as little contact with whites as very low income black households...Furthermore, blacks and Latinos are typically segregated in the same high need, low-performing schools because of the severe housing segregation on Long Island..." She indicated that, if anyone in the audience desired to get involved with ERASE Racism's Education Equity Project and/or the Fair Housing Initiative, he/she could participate simply by signing up to join the Partnership for Racial Equity. She also noted that there is a new full-time job opportunity at ERASE Racism as the Full Time Long Island Organizer. She ended her speech with inspirational words urging listeners to spread the message that "It's not okay to deny black and brown families housing choice; it's not okay to provide affordable housing for black and brown families only in communities with concentrated poverty, very high need and low performing schools; and it's not okay to maintain racially segregated schools."
ERASE Racism Board of Directors Co-Chair Scott Williams explained the importance of supporting ERASE Racism's Legal Action Fund and echoed the urgency of taking action to stop racial discrimination on Long Island. He explained how ERASE Racism's Legal Action Fund is making a difference, and asked for continued support of this essential and very effective new initiative.
In addition, ERASE Racism's staff, volunteers and partners all showed their support by donating their time, their money and the wonderful gifts and beautiful gift baskets for the Silent Auction.
To see all of the photos from the evening, visit our Facebook page. For more information about the event, visit our 2014 Annual Benefit Page