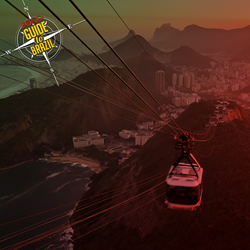 DALLAS, TEXAS (PRWEB) June 25, 2014
With Brazil hosting worldwide sporting events in 2014 and 2016, there has never been more interest in its distinct culture and cuisine. The Fogo Guide to Brazil invites soccer fans to discover Brazil through the eyes of locals and influential writers, photographers and artists from around the world who have a personal connection with the country. Featured contributors include Marcello Arrambide (190k Facebook fans), César Øvalle (295k Instagram followers), Paulo del Valle (243k Instagram followers), and others. The Fogo Guide to Brazil also features stories told by authentic Fogo de Chão gaucho chefs who were born and raised in Southern Brazil, where Fogo de Chão began over 35 years ago. The website will unfold over this month's worldwide sporting event in Brazil; see their stories at Fogo.com/guide.
To celebrate the introduction of the Fogo Guide to Brazil, users are invited to join Fogo de Chão on Facebook, Instagram and Twitter for a chance to win one of several $500 dining cards to use at Fogo de Chão. This campaign features a social media scavenger hunt that encourages users to explore the Fogo Guide to Brazil to solve weekly challenges. On Instagram, users can share and repost photos from the Fogo Guide to Brazil for a chance to win. Official Rules at: Fogo.com/guide
About Fogo de Chão:
Fogo de Chão® Churrascaria - Brazilian Steakhouse was founded in 1979 in Porto Alegre, Brazil and expanded into the U.S. in 1997. There are currently 33 locations throughout Brazil and the United States, with the recent openings in New York City, San Jose, Portland, and the Jardins neighborhood of São Paulo. Fogo.com.
Check out "The Gaucho Way", a documentary-style video that is shot through the eyes of real Fogo de Chão Brazilian gauchos and explores the restaurant's deep cultural roots in Southern Brazil.