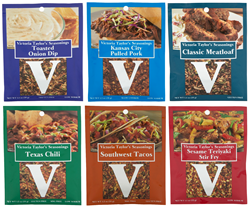 We want to show consumers how easy it is to make a delicious, home-cooked dish with Victoria Taylor's seasonings.
Woburn, MA (PRWEB) June 27, 2014
Victoria Gourmet, Inc. introduces a new line of recipe packets that deliver the exceptional flavor of the company's award-winning Victoria Taylor's Seasonings in a convenient and affordable package. The recipe packets are available in six varieties: Sesame Teriyaki Stir Fry, Southwest Tacos, Texas Chili, Classic Meatloaf, Kansas City Pulled Pork and Toasted Onion Dip.
The back of each packet is imprinted with a QR (Quick Response) code that links to a step-by-step video of company founder and CEO Victoria Taylor preparing the featured recipe. "We want to show consumers how easy it is to make a delicious, home-cooked dish with our seasonings," says Taylor. "My consumers can have fun watching the videos right in the store or they can watch at home. Either way, they demonstrate how quick and easy the recipe is."
The recipe packets represent significant growth potential for Victoria Gourmet in larger grocery chains where convenience and price point are key selling factors. The company's products with their signature colorful labels are typically found in specialty food stores and chains like The Fresh Market and Central Market and the gourmet food departments of large retailers such as HomeGoods.
"Today's consumer expects convenience," says Taylor. "Because the recipe packets are carefully blended using my formulas, they save steps at the store and in the kitchen. For example, our Texas Chili blend incorporates seven different chilies for complexity and assertiveness. The packet makes a big pot of flavorful chili in a snap."
Taylor notes that Victoria Taylor's Seasonings are formulated to keep the salt content low, relying on top-quality herbs and spices to deliver the taste. While many seasoning blends are finely milled, Victoria Taylor's Seasonings are distinguished by their relatively large piece size, which helps to preserve the volatile oils that contain most of the flavor.
The packets are merchandised in a display-ready 12-pack box that fits perfectly on grocery store shelves in the seasoning packet section. The box is also designed to work as a stand-alone display in the meat or produce department. The line is designed for the consumer who enjoys home-cooked meals but has limited time to shop for and prepare complicated dishes. The suggested retail price per packet is $1.89.
Founded in 1998, Victoria Gourmet is a leading provider of quality, all-natural spices, seasoning blends, and gourmet ingredients sourced from around the world, all bearing the Victoria Taylor's brand name. Victoria Taylor's Seasonings have received multiple awards from specialty food and foodservice trade associations as well as critical acclaim from food media and chefs. The seasoning blends also play an integral part in the signature recipes of several major national restaurant chains. The Victoria Taylor product line can be found in over 3,000 retail locations in North America and is sold online at vgourmet.com.