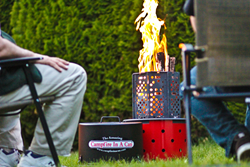 It's the quietness of it. The fire doesn't ask anything of you, other than to relax.
Henderson, NV (PRWEB) June 25, 2014
The thing that drove Knight, an inventor to build the perfect portable campfire was the very 35-pound steel green portable campfire he'd loved at first sight.
"I thought I'd died and gone to heaven when I bought it," says Leo Knight. That was when he and wife Sherry had just retired, sold the house, and were about to travel across the continent in their motorhome. Knight was anticipating hundreds of sunsets spent around that portable campfire.
"But it didn't give any heat, and it used a lot of wood," says Knight. It was big and it was bulky. Soon enough, the couple's 'big green thing' was destined for the dump, but his wife wanted campfires. "She said, 'Either use that one, or solve the problem.' That's when the light went on."
That light led Knight to investigate how firepits work (or don't work), and why you're always adding more wood but you're never really warm. As he pondered and experimented, the couple carried on, to national parks such as Zion and Death Valley, stopping at junkyards along the way so Knight could build his first prototype.
The result was Campfire in a Can, a portable campfire and cooking stove that uses a vertical chamber to keep wood upright so the fire lasts longer, distributes heat evenly, and offers more warmth.
"With our stand, because it raises the campfire off the ground and the wood is upright, it puts the heat at your torso so you're always warm," says Knight. With Campfire in a Can, that single bundle of gas station firewood lasts all night.
In addition to being an all-round user-friendly fire, Campfire in a Can becomes a cooking fire fueled by wood or charcoal under the handy grill or grate. Its accessories, which include kabob skewers and marshmallow roasting sticks, all fold neatly into the can. At the end of the night, putting out the fire is fast and simple because you just place the canister over the base and instantly snuff out the fire.
Giving campers a quick way to put out their fires was important to Knight, who also invented a popular propane-fueled Campfire in a Can, the only certified zero clearance portable firepit fit for use anywhere, even on condo decks and in campgrounds during fire bans.
But there's something people will always love about a real wood fire.
"It's the quietness of it. The fire doesn't ask anything of you, other than to relax," says Knight. "It's always been a natural gathering point."
Knight is trying to get the wood-burning portable Campfire in a Can to market through Kickstarter, an online funding platform where startups get financial backing by offering discounted products to future customers pledging money. As of June 24, Campfire in a Can's Kickstarter campaign had raised just over $29,000 with 36 days left to reach the $80,000 goal.
"Kickstarter gives you a chance to build a sense of community because people believe in what you're doing, and they get behind you," says Knight. "They like your idea and they say, 'Hey, we're with you.'"
About Campfire in a Can
Campfire in a Can is a family-owned company based in Henderson NV. and Kelowna, BC. With its popular portable propane campfire and a wood-burning portable campfire on its way to market, Campfire in a Can is proud to offer outdoor enthusiasts in Canada and the United States a way to make the most of their fires.
For more information, please contact:
Leo Knight
Inventor, Campfire in a Can
1-702-583-7919
sales(at)campfireinacan(dot)com
High resolution images and a video are available at http://www.campfireinacan.com/press.html.