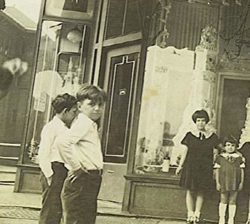 When I presented my DNA analysis and ancestry map to my father, he was overjoyed and intrigued by all of the historic results.
Chicago, IL (PRWEB) July 22, 2014
The DNA Spectrum Ancestry Map provides customers will a clear and concise visual representation of history, migration, and culture.
Throughout his childhood years, Mr. Novak was always regaled by family history stories stemming from Europe. His father passionately referred to the historic location as the "old country." Pictures and 8mm home movies painted an elaborate picture of an unknown and undiscovered side of the family, and Steve ordered a test from DNA Spectrum to expand upon the knowledge of his ancestry and to visually represent his geographical roots for family and friends.
Mr. Novak felt different as an American, born in the United States, of two American parents, with completely different backgrounds. Mr. Novak's mother was predominantly of German and French descent, while his father was born of two Yugoslavian parents from the Dalmatian coast of what is now Croatia.
Mr. Novak was always intrigued by the Croatian side of the family. His older relatives could speak a language that had not passed on to him, and he reveled in the jokes that they found funny and the traditions that they painstakingly passed down. Of course, even more importantly, he had researched the hardships they had endured. They talked of politics and religion outside of democracy, which he had never experienced. Steve understood an occasional word of the Slav dialect here and there, but there was an obvious gap in how his ancestors viewed their ancestry and how he viewed his.
Mr. Novak always found his family to be slightly darker skinned than most caucasian individuals in the United States, with dark brown eyes, and dark brown hair. He was the only individual in his family with blue eyes, which he believes stems from his French and German mother, who always seemed to stand out as being decidedly different.
Most of the paternal side of his family hailed from a small island off the Dalmatian coast and were predominantly fisherman by trade. They would tell stories of boat trips through the Adriatic and sailing South into the Mediterranean. Mr. Novak would sit and listen and ask an occasional question to avoid interrupting the stories. His father would sit and listen with more, if not greater interest than him. Steve's father grew up with these stories and listened as if it was always the first time he had heard them. His father always felt this sense of nostalgia when listening to stories of the old country, the house in which his grandfather was born, and the family members that still reside on the small island in Croatia.
Croatia, the Slovak Republic, and multiple Romanian populations (specifically gypsy populations) dominated most of his profile. Even more surprisingly were population matches to India. As he continued to look deeper and deeper into migration paths and ancestry, he learned that many gypsy populations in his region originated in India. The migration paths into Europe occurred nearly a thousand years ago and are all eloquently displayed in the historic atlas.
When Steve presented the findings to his father, he was completely overjoyed and intrigued by the results. They shared the dichotomy of his mother's genetic contribution versus his father's old world roots. It opened up doorways to information that they hadn't realized before and the original map provided an excellent medium for exploration.
Were his father's ancestors actually gypsies? They had to know more. His father was eager to get his own DNA test done to understand more of his ancestry as well. His results complemented Mr. Novak's, and even more intriguing was a Jewish heritage marker in his father's profile that was completely absent in his. He never realized that ancestry could be qualified in such a meaningful manner. Mr. Novak stated, "My heritage is written in my DNA like a map to my past that was never fully realized as I was growing up. Now, I have my own story and map to share with my children and this information will be passed down for generations."
About DNA Spectrum:
Every person's DNA stores an incredible amount of valuable information. This knowledge is only as relevant as the tools available to understand and unravel the mysteries hidden within the genetic sequence. The vision of DNA Spectrum is to uncover the information contained within a genome and present the findings in a format that is easy-to-understand, meaningful, and life changing.
DNA Spectrum meets the discerning demands of genetic testing clients today, with DNA ancestry and private storage services and support. Later this year, DNA Spectrum will release the first DNA lifestyle genetic products, enabling individuals to make positive life changes in fitness, diet, and exercise. With DNA Spectrum as a partner, customers and researchers will be at the forefront of genetic breakthroughs for generations to come, and will be able to access all genetic needs through one online marketplace.
Media Contact
Paul Yates
1.800.471.6164