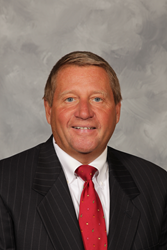 After building several successful businesses while at Comcast-Spectacor, I am excited to get back to my entrepreneurial roots and Pointstreak is a perfect fit
Toronto, ON (PRWEB) July 07, 2014
Pointstreak Sports Technologies Inc., an industry leader in sports technology solutions, is pleased to announce that Peter A. Luukko, formerly Chairman of Global Spectrum and President/COO of Comcast-Spectacor, has accepted the appointment as the company's Executive Chairman. Mr. Luukko has also increased his overall equity position in Pointstreak by making an additional investment in the company.
Mr. Luukko will assume a full-time position with the company where he will oversee Pointstreak's strategic growth strategy across all divisions as well as potential mergers and acquisitions. "After joining Pointstreak's Board of Directors it became clear to me that the opportunity that existed with the company was extremely attractive as both a shareholder and now working full-time with the management group. After building several successful businesses while at Comcast-Spectacor, I am excited to get back to my entrepreneurial roots and Pointstreak is a perfect fit," explained Luukko.
"Our Shareholders are obviously excited to have Peter serve as Executive Chairman. Over the past few months I have had the opportunity to work extensively with Peter and his experience, relationships and vision will prove to be a great asset to the company," said Scott Secord, Pointstreak's President/CEO.
Before joining Pointstreak, Mr. Luukko served as President/COO of Comcast-Spectacor. In this role he was responsible for the creation of new business opportunities for Comcast-Spectacor in the fields of facility management, sports ownership, ticketing as well as food and concessions operations. He also oversaw all operations of the Philadelphia Flyers and served as a member of the Board of Governors of the NHL.
While at Comcast-Spectacor, Mr. Luukko oversaw the company's growth in facility management from seven facilities to over 115 by 2013. Additionally in 2000, Comcast-Spectacor acquired Leisure Food Services and renamed the company Ovations Food Services. Comcast-Spectacor made a significant investment into a ticketing technology company, Paciolan and employed its technology to create a full-service ticketing company, New Era Tickets, in 2004. Comcast-Spectacor acquired 100 percent of Paciolan from Live Nation in 2010.
A recognized leader in the facility management industry, Luukko was the 2000 recipient of the City of Hope's Tri-State Labor Award. He also received the 2002 prestigious Harold J. VanderZwaag Distinguished Alumnus Award from the Sports Management Program of the University of Massachusetts for his accomplishments in the field of sports management.
Luukko continues to serve on various boards of directors including the Board of Directors for the Philadelphia Convention and Visitors Bureau, and the Philadelphia Sports Congress, and the Ed Snider Youth Hockey Foundation.
ABOUT POINTSTREAK SPORTS TECHNOLOGIES
Pointstreak Sports Technologies Inc.'s mission is to provide innovative technologies to enhance the experience of the global sports community.
Specialized for the needs of sports organizations such as leagues, teams, associations and governing bodies, Pointstreak's solutions streamline operations and improve the experience of sports participants, fans and media. Pointstreak has three broad divisions: League & Team Management Solutions (brands: Pointstreak Stats - real-time league statistics system; Pointstreak Registration - online registration system; Pointstreak Sites - website content management system; Pointstreak Stream - a live & on-demand sports video streaming service), Electronic Raffle System (brand: Pointstreak 5050) and Athlete Performance, Development & Promotion (brand: Pointstreak Performance).
More information about Pointstreak Sports Technologies Inc. can be found at http://www.pointstreak.com, through the product information website http://www.pointstreaksolutions.com or through the corporate micro site.
Connect with Pointstreak on Facebook, Twitter, LinkedIn, Google+ and YouTube.