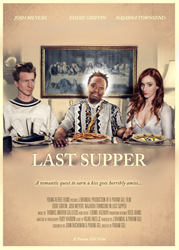 Last Supper is very funny but also has a lot of heart, it's almost like a dramedy - Eddie Griffin
Beverly Hills, California (PRWEB) June 26, 2014
Actor-comedian Eddie Griffin (Scary Movie 3, Date Movie, Deuce Bigalow: Male Gigolo) is headed back to the big screen in his most ambitious starring role with talented Josh Meyers (MAD TV, That 70's Show) in the black comedy "Last Supper". Penny Marshall plays herself in a brief cameo. The film is produced by FlickBag, an independent film production and distribution company based in Silicon valley and Beverly Hills, California.
The trailer touches upon two lunatics (Griffin and Meyers) who escape a mental institution with a video camera and set out to make a movie about a princess they can rescue. The duo encounters various obstacles, not the least of which is that their "princess" turns out to be a burned-out prostitute (Najarra Townsend) who wants to commit suicide. But along the way, the trio ends up becoming overnight sensations on YouTube, as followers speculate whether the whole thing is a clever hoax or a moving if unorthodox attempt at redemption.
"It's a really great script," Griffin says. "It creates a unique African-American character that was a lot of fun to play." The film is based on an iconic European film, The Last Supper, released in 2002 and ranking as the most successful production in the history of Slovenia's film industry. "Our new version is an updated, Americanized re-imagination of the original story, based on the original plot," says director Param Gill (Rockin Meera, Hotel Hollywood).
With a screenplay by John Buchanan and Param Gill, the film is produced by J Bhandal. Jai Khanna of Brillstein Entertainment Partners served as associate producer. Post-production on the film was completed in May, and the film has now been submitted to several film festivals worldwide. Although fans will have to wait some time to see the movie, they can catch a sneak peak by watching the trailer and get to meet the cast at the movie's website http://www.LastSupperMovie.com.