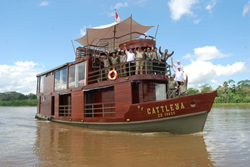 River travel is still the traditional method of transportation in this vast, roadless wonder, whether it be by locals in dugout canoes or tourists in luxury riverboats.
Gulfport, Florida (PRWEB) June 25, 2014
Demand for river tours has been explosive in recent years. Many seasoned travelers have already had the pleasure of experiencing the better known river cruises of Europe or the United States. However, interest in discovering new destinations, coupled with a desire for a taste of the exotic, has resulted in many travelers seeking new adventures in remote locations such as the Amazon.
The Amazon offers travelers a range of exciting features. Perhaps most obvious is the Amazon's reputation as a top wildlife destination. The Amazon rainforest and its freshwater habitats are home to over 80,000 plant species and some 30 million animal species, more than a third of all the species in the world. From the microscopic to the gargantuan, the incredible diversity of flora and fauna that reside there beckon us, each with their own stories, stories that speak to their splendor and complexity.
The Amazon is also a wonderful cultural destination. Most Amazon tours offer the possibility of visiting and interacting with local communities. Interaction with the Amazon's native inhabitants not only affords the westernized traveler a bit of perspective on how others survive with limited means and conveniences, but supports sustainable development by providing supplemental income through the sale of handicrafts and employment opportunities as guides, cooks, drivers and the like.
By launching its new website, Rainforest Cruises hopes to reach potential travelers looking to arrange tours in the Amazon. The preferred style is to navigate the Amazon's tributaries by riverboat, but there are also a number of Rainforest Lodges to choose from.