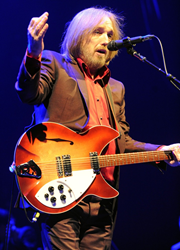 Denver, Colorado (PRWEB) June 25, 2014
Their first hit "Breakdown" broke in 1977. Since then, rockers Tom Petty and the Heartbreakers have sold over 80 million tracks and become one of the best selling American bands of all time.
Now they're back on the road again in support of their first studio album since 2010's Mojo. Backed by fellow Grammy Award-winning artist Steve Winwood, the rock band has booked a bounty of tour dates following the expected release of Hypnotic Eye, their 13th studio effort, on July 29, 2014.
"The coast-to-coast run is powering top trending ticket sales," said Marta Ault at online ticket marketplace BuyAnySeat.com, "and includes gigs at San Francisco's Outside Lands Music and Arts Festival and a performance at Boston's Fenway Park for the first time ever on Labor Day weekend.
"That's why we're proud to offer fans the most comprehensive and continuously refreshed selection of discount concert tickets online, with a Worry-Free Guarantee to protect their purchase," added Ault.
"To access the complete inventory of cheap Tom Petty tickets now online – as well as the entire inventory of all seats available – fans can go to BuyAnySeat.com and search for Tom Petty – then select their tickets."
Tom Petty, the front man for the Heartbreakers, was born Thomas Earl "Tom" Petty on October 20, 1950 in Gainesville, Florida. When he was 10, he had the good fortune to meet Elvis Presley and was inspired to become a singer.
He began performing in 1969 and formed the Heartbreakers in 1976. Since their first hit "Breakdown" in 1977, the band has released more hits like "American Girl," "I Need to Know," "Learning to Fly", "Free Fallin'," "Don't Do Me Like That," "Refugee" and "The Waiting."
In all, Petty has released 10 studio albums as Tom Petty and the Heartbreakers, three solo albums, one album with Mudcrutch, and two with super-group The Traveling Wilburys.
In association with his various rock groups and collaborations, he has been nominated for 26 music related awards, including 16 Grammy Awards, winning three to date. It is estimated that throughout his career, Petty and his collaborators such as Bob Dylan, George Harrison, Jeff Lynne, Stevie Nicks, the Grateful Dead, Roy Orbison, Bonnie Raitt, and Dwight Twilley have sold over 60 million albums, adding to the 80 million he's sold solo and with the Heartbreakers. (Source: wsj.com, 1/27/2010)
Petty's musical genres include rock and roll, roots rock, heartland rock, southern rock, blues rock, psychedelic rock and country; and his talents include vocals, guitar, bass guitar, keyboards, drums, harmonica and ukulele.
In addition, his notable instruments of choice include the Fender Stratocaster and Telecaster, the Gibson Dove and Flying-V, Rickenbacker guitars and Vox Mark III. Petty was inducted into the Rock and Roll Hall of Fame in 2002. (Source: wikipedia.org)
Petty's support, Steve Winwood, is an English musician whose genres include rock, blue-eyed soul, rhythm and blues, blues rock, pop rock and jazz. Also as a multi-instrumentalist like Tom Petty, Winwood can play keyboards, bass guitar, drums, guitar, mandolin, violin and other strings.
Winwood has been a key member of several bands during his career including the Spencer Davis Group, Traffic, Blind Faith and Go. He has also maintained a successful solo career with hits including "Valerie" and "Back in the High Life Again" to go along with his two U.S. Billboard Hot 100 Number One hits "Higher Love" and "Roll With It". Winwood was inducted into the Rock and Roll Hall of Fame as a member of Traffic in 2004, and has also won two Grammy Awards.
After Clarkston, additional tour dates are set for Toronto, Montreal, Boston, Portland, Darien Center, New York, Holmdel, Hartford, Philly, Allentown, Raleigh, West Palm Beach, Tampa, Nashville, Houston, Dallas, Tulsa, Morrison, and Anaheim. The wrap is currently slated for The Forum in Inglewood on October 10, 2014.
To shop for discount Tom Petty tickets, visit BuyAnySeat.com. To save even more, enter coupon code "BAS2014" at check-out.
About BuyAnySeat.com: An online discount ticket marketplace, BuyAnySeat.com connects sports, theater and other live entertainment fans to an extensive worldwide network of ticket sellers. The site's simplified listings and navigational tools enable fans to easily locate, compare and purchase inexpensive, discounted or lower-priced tickets to virtually all advertised sports and entertainment events around the globe.
The site, which is PCI-compliant and Norton Secured, also provides customers with a complete Worry-Free Guarantee on all ticket purchases. Based in Denver, Colorado, BuyAnySeat.com is a subsidiary of Denver Media Holdings. For more information, please visit http://buyanyseat.com.