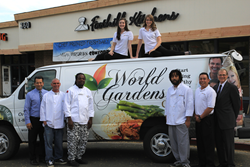 Upland, California (PRWEB) June 25, 2014
Many full-time employees complain of being tired at work. A quick and easy workout can offer a burst of energy and help keep focused on work. Sitting at a desk can reduce your overall health and energy, creating a lackadaisical attitude throughout the day. Most offices are allowed two 15 minute breaks throughout the day, so World Gardens Café came up with a 15 minute no sweat workout that anyone can do.
For beginners, it is recommended to start off by walking around the office at a moderate pace. This will get heart rates up and burn about 30 calories. Then for the next two minutes do 20 desk pushes. (Stand up straight, and lean on the desk in a planking position then lower down.) This will burn 15 calories at a moderate pace. Then in the hallway or around the desk, do some lunges for 3 minutes. Lastly, hold a squat for 2 minutes. To begin a squat, stand against a wall and pretend to sit in a chair, keeping legs at a 90 degree angle.
For intermediate workouts, begin walking up the stairs at a moderate pace for 8 minutes. This will burn about 90 calories and work out legs, core and arms. Next is some old fashioned floor push-ups for 2 minutes. Then to burn an extra 40 calories hold a squat for 2 minutes. (Not against a wall, stand tall at a 90 degree angle) Finish this off with 3 minutes of jumping jacks.
This workout will give the energy needed to get through the day and relieve any stress without the sweat a normal workout would give. To refuel the body with balanced nutrition, try a gluten-free meal from World Garden's Café that is nutritious and delicious.
For more information about the healthy, delicious and cost-effective meals delivered by World Gardens Café please visit http://worldgardenscafe.com/index.php/.
About World Gardens Café
World Gardens Café's mission is to create a healthier world by providing quick, healthy alternatives to fast food. Their food helps people of all ages and dietary needs live longer, healthier lives. As the premier provider of home-delivered, fully prepared, healthy gourmet cuisine, World Garden's Cafe specializes in providing gluten-free frozen meals to clients in California, Arizona, Nevada and Utah. The delicious and flavorful meals are prepared by celebrity Chef Ravi and are then carefully packaged, frozen, and delivered to consumers' homes. Customers can purchase food online or via phone, and have the convenient option of delivery or local pickup at Foothill Kitchens which is located at 360 W. Foothill Blvd, in Upland, CA.
For more information visit http://www.worldgardenscafe.com, like WGC on Facebook and Follow WGC on Twitter.