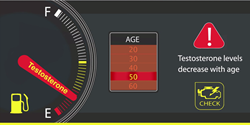 "55 million men in America are between 40 and 70 years of age. These men represent a sizable, under-served market opportunity for natural alternatives." says Michael Lee of Progene
Cincinnati, OH (PRWEB) June 26, 2014
Progene® recently completed four national research studies on men's attitudes toward health and aging, their understanding of low testosterone, and their opinion of supplements.
Begun in December 2013, the study revealed that of 1000 men between the ages of 34-64 who completed the survey, 88.4% did not know their testosterone levels – but the majority – 67.5% wanted to find out.
Furthermore, the study brought to light that 86% of the men were interested in taking a natural supplement – but 91% were not taking any.
"55 million men in America are between 40 and 70 years of age. These men represent a sizable, under-served market opportunity for natural alternatives," says Michael Lee of Progene. "Each year, men lose 1% - 2% of their ability to produce testosterone. By age 45, this could be a significant loss."
Men have a tendency to miss checkups and ignore illness. The American Medical Association study found that "fear, denial, embarrassment and threatened masculinity" prevented men from getting help.
The denial factor is unrelated to occupation, age, race or income. No matter how smart a man is, and no matter what kind of professional status he's achieved, he still ignores important health benefits like knowing his low testosterone levels.
Testosterone is important for overall fitness and well-being. The hormone supports the growth of bones and muscles while affecting mood, libido (sex drive) and certain aspects of mental ability.
When a man's T-levels start to fall, he isn't making enough testosterone for his body to function normally and this can affect his overall quality of life.
Knowing is half the battle.
At one point, finding out one's testosterone levels meant taking the time to make a doctor's appointment and, once arriving, going through the painful process of blood testing. Today, such a visit is unnecessary. Technological advances have simplified the process and levels of free testosterone can be found in saliva. What guy doesn't know how to spit?
Progene® leads the supplement category as the only brand in the country with a painless, at-home testosterone test kit giving men the opportunity to find their T-levels quickly – and in the privacy of home.
Removing the next excuse to avoid T-levels -- cost -- is easy. Progene® is conducting a new study that compares the levels of testosterone before and after taking Progene's® Testosterone Supplement for 30 days. Qualifying participants receive, free of charge, a 30 day supply of Progene® and 2 test kits. In order to complete the study, men must follow strict guidelines.
Interested in participating? Call 866-776-4363 and talk with a research specialist.
Testosterone loss is an important issue and Progene® is here to help.
Visit progene.com and see the power, performance, and passion that inspire Progene® customers to feel younger and live well™.
About Progene®
Founded in 2003, Progene® continues to lead the market by addressing the decline of testosterone levels in men as they age. With over 20 million tablets sold, Progene®'s dual-action formula of over 15 rare herbal extracts and clinically proven testosterone precursors helps to provide men the ingredients they need to produce more testosterone.
Progene® continues to evolve and innovate. The addition of the At-Home Testosterone Test Kit gives men the opportunity to actually see for themselves what Progene® can do to help restore their Power, Performance & Passion®.
For over ten years, Progene® continues to help men feel younger and live well® with natural solutions to natural problems.
Progene® is currently sold nationwide at Costco.com, GNC Stores, Meijer, Stop & Shop, Bi-Lo Winn-Dixie, Vitamin Shoppe, Rite Aid, USADrug, Drugstore.com, Sears Marketplace, Harris Teeter Groceries, Brookshire's Food & Drug, LuckyVitamin.com, and more than 150 other local and regional retailers.
For more information about Progene® products, call 888-PROGENE, visit Progene.com, or go to facebook.com/800PROGENE.
PR Contact: Judith Hokanson 513-477-7973