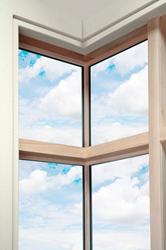 Weather Shield has introduced a whole new suite of product lines for homeowners, builders and architects, and upped the ante on the technology in each of those product lines to ensure industry-leading performance.
Medford, Wis. (PRWEB) June 25, 2014
Weather Shield Windows & Doors will be introducing architects, builders, remodelers and homeowners to its new Contemporary Collection, as well as its Aspire Series™ and Premium Series™ of clad wood windows and doors at PCBC June 25-26, 2014, in San Francisco, and at the AIA Expo June 26-28, 2014, in Chicago.
"Weather Shield has introduced a whole new suite of product lines for homeowners, builders and architects, and upped the ante on the technology in each of those product lines to ensure industry-leading performance," said Dave Koester, brand manager at Weather Shield. "We are excited to share these products with show attendees as well as unveil our latest line, the feature-rich Contemporary Collection."
Weather Shield introduced its Aspire Series of vinyl-clad wood windows in mid-2012, the Signature Series™ of aluminum-clad wood windows and doors in early 2013, followed by the aluminum-clad wood Premium Series in fall 2013. Combined with new technology and renewed momentum, these product lines position Weather Shield strongly with architects/designers and custom, spec and volume builders.
The Contemporary Collection
Weather Shield's newest product line, the Contemporary Collection, has architectural style designed specifically for high-end custom homes – particularly homes with views. The product line has narrow profile frames and sash for a sleek appearance and more exposed glass. It shares many of the same upscale features as the Premium Collection and also includes the luxurious options of several exterior anodized colors for a radiant metallic finish, a Black Poly interior finish for a smooth and satiny look, and sleek, ergonomic hardware. Perhaps most memorable, however, may be the product line's "vanishing" corner window, which has the two panes that meet in the corner with only a very narrow strip of wood between, allowing for a nearly seamless view. A strong aluminum internal support structure on the exterior reinforces the unit. It is also available in crank and push-out casement, awning and direct set windows, and a narrow-stile hinged patio door with contemporary ergonomic hardware.
The Premium Series
The Premium Series of aluminum-clad wood windows and patio doors is Weather Shield's most option-rich, architecturally inspired product line. It is available in a large range of standard sizes in double hung, casement, awning and sliding windows; and hinged, sliding, telescoping and bi-fold patio doors. Options include seven interior wood choices that can be finished in one of five factory stain or paint finishes, four hardware finishes, and exterior clad colors choices of 12 standard colors, 45 designer color or any custom-matched color.
The Aspire Series
The Aspire Series is a full line of windows and patio doors with the beauty of real wood interiors and low-maintenance, resilient extruded vinyl on the outside. The line comes with features uncommon to value-priced products: an optional wood jambliner on double hung windows, and multiple extruded and painted exterior color choices, including Desert Tan, which is popular on the West Coast. Interiors are standard pine, which can be primed or prefinished in one of four stain choices or painted white.
Incorporating the Latest Technology
All of Weather Shield's product lines feature advanced foundational technology: the TriCore™ Frame technology for casements, awnings and pictures, and the Symmetry Balance System™ for single and double hung, and single and double sliders. The TriCore frame technology combines highly moisture-resistant materials, a fusion-welded sub frame, and thick, multi-chamber components to achieve new levels of energy efficiency and thermal performance. The exclusive Symmetry Balance System combines coil balance technology and an all-new jambliner for superior air and water performance, virtually effortless operation and striking appearance. Weather Shield's double hung units are among only a few in the industry to achieve a Class 3 AAMA rating.
Weather Shield products are available with energy-efficient glazing choices, such as double pane options of Zo-e-shield™ 5, Zo-e-shield 5 Extreme and Zo-e-shield 6, and the triple-pane Zo-e-shield 7 and Zo-e-shield 8.
To find a Weather Shield dealer near you, search the Dealer Locator.
About Weather Shield Windows & Doors
Founded in 1955, Weather Shield Windows & Doors is owned by the Schield family and is based in Medford, Wis. For more information on Weather Shield products, call 1-800-222-2995, or visit http://www.weathershield.com.