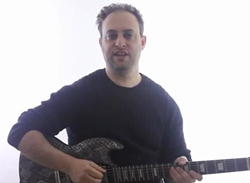 The chords are simple, but the rhythm is a little complex
(PRWEB) June 24, 2014
"The chords are simple, but the rhythm is a little complex," says Johnson. Claude starts off this guitar lesson by jumping right into the chords used for the song. The fist chord is Bm (B minor), then to D, G, D, G and then back to Bm. "This is one of those rhythms that is on the two and four," says Johnson, "which is almost like Reggae." Due to the complexity of the rhythm Claude says it is easier to feel out the rhythm instead of trying to count it. Johnson performs the song throughout the lesson so even the novice guitarist can follow along easily. Complete chord charts as well as guitar TAB's are available for this easy beginner guitar lesson at GuitarControl.com.
The Cranberries are an Irish rock band formed in 1990 in Limerick Ireland. The band was commercially successful with their first album 'Everybody else is doing it, so why can't we?', which made them one of the most successful bands of the 1990's selling over 40 million albums world wide. They have released 6 studio albums over the course of their career, 4 of which were top 20 albums.
Claude Johnson
Claude Johnson, a native of Philadelphia PA, began playing guitar in 1990 after being inspired by players like Jimi Hendrix, Eric Clapton, and Stevie Ray Vaughn. He is the creator of GuitarControl.com and has helped 1000's of people to learn to play the guitar with his critically acclaimed instructional DVD courses, all available at GuitarControl.com
About GuitarControl.com
GuitarControl.com is the leader in modern guitar instruction. It's packed with recourses including articles, video lessons, and the best videos in the business for the beginner to the advanced guitar student taught by the best instructors out there. Weather you are into the blues, rock, jazz, metal, folk, or anything in between, they have you covered.