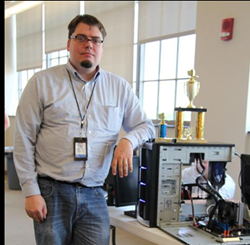 Winston-Salem, NC (PRWEB) June 24, 2014
Fifteen of Inmar's top IT talent competed last week during the company's annual IT Killer Rig competition. With their peers and Leadership team members looking on, the competitors' machines were put through rigorous tests against industry and company benchmarks. In the end, winners with the best-performing systems were crowned in three categories.
Every year, a group of Inmar engineers seeks to prove that they can, for the same price, build a better system than the commercially available PCs or laptops typically issued. Taking them up on the challenge, Inmar gives competition participants a budget of $1,000 and some ground rules, such as no kits or overclocking, and the systems must use Inmar licensed software and comply with all Inmar policies. They have two weeks to build their system on their own time and retain the system, with its killer speed, as their Inmar system, after the contest.
"The speed of an engineer's system directly impacts his or her productivity and efficiency," says Inmar Chairman and CEO David Mounts. "If they tell us they aren't satisfied with their system and that they can build a faster one, we say great! Go do it! It is a fun, highly completive event and they impress us every year."
Winners of the 2014 Inmar Killer Rig Competition:

The da Vinci Award (best overall) and Roadrunner #1 Award (best performance against industry benchmarks) went to Steve Chipman, software engineer. Steve used his $1,000 to build a machine that boasted an Intel Core i5-4670K 3.4 GHz (4 core) CPU, 16 GB (2 x 8 GB) of Corsair Vengeance DDR3 1600 MHz memory and a Samsung 840 EVO 128 GB SSD.
The Roadrunner #2 Award (best performance against Inmar benchmarks) went to software engineer, Matthew Lingelbach. With his $1,000 budget, Matthew built a machine with an Intel Core i7-4770 3.4 GHz (4 core) CPU, 32 GB (4 x 8 GB) of G Skill Ripjaws Z 1600 MHz memory and a Crucial M500 240 GB SSD.
Both are enjoying the fruits of their labor this week as they put their "Killer Rigs" to work.
# # #
ABOUT INMAR
Inmar is a technology company that operates intelligent commerce networks. Our platforms connect offline and online transactions in real time for leading retailers, manufacturers and trading partners across multiple industries who rely on Inmar to securely manage billions of dollars in transactions. Our Promotions, Supply Chain and Healthcare platforms enable commerce, generate meaningful data and offer growth-minded leaders actionable analytics and execution with real-time visibility. Founded in 1980, Inmar is headquartered in Winston-Salem, North Carolina with locations throughout the United States, Mexico and Canada.
For more information about Inmar's products and services, please call 866.440.6917 or visit http://www.inmar.com.