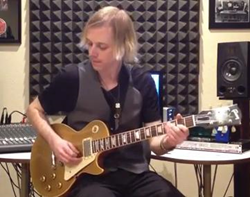 (PRWEB) June 24, 2014
In today's easy guitar lesson, Jon demonstrates the CAGED chords using the song Hey Joe by Jimi Hendrix. Jon says that the chords used for this chord progression are C, G, D, A and E, and that each chord will receive to beats played as half notes. These chords should be practiced transitioning between them to create muscle memory so that they can be changed quickly and easily to stay in time. Guitar tabs are available for this easy guitar lesson at GuitarControl.com.
The CAGED system is a method used to help guitarists relate scales to chord patterns. It refers to the common major chords C A G E D in the open position.
James Marshall "Jimi" Hendrix was an American rock guitarist from Seattle Washington. Hendrix is regarded as one of the most influential guitarists of the 20th century even though his career only lasted four years. Over the span of his short career, he released four studio albums and one live album and was awarded 7 Lifetime Grammy Awards. Hendrix passed away on September 18th, 1970.
Jon MacLennan
Los Angeles-based guitarist Jon MacLennan began his career at the age of 16 and is one of the busiest upcoming session guitarists, artists, composers, producers, and professional educators in LA. Jon has done session work for Julian Lennon, Steven Tyler, and British pop star Jamie Cullum. He has appeared on Disney channels "The Suite Life of Zack and Cody" and on the soundtrack to the movie "Marley and Me 2 – The Puppy Years". MacLennan earned a bachelor's in ethnomusicology and jazz guitar studies from University of California, Los Angeles, and has been mentored by Carl Verheyen, Wolf Marshall, Kenny Burrell, Anthony Wilson, Tamir Hendelmen, Jimmy Wyble and Ron Anthony which has made him a highly sought after guitar instructor today.
About GuitarControl.com
GuitarControl.com is the leader in modern guitar instruction. It's packed with recourses including articles, video lessons, and the best videos in the business for the beginner to the advanced guitar student taught by the best instructors out there. Whether you are into the blues, rock, jazz, metal, folk, or anything in between, they have you covered.