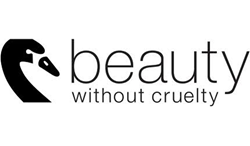 TWIN LAKES, WI (PRWEB) June 25, 2014
Beauty Without Cruelty (BWC), a personal-care brand that became the first to ban animal-testing for its products in 1963, has joined the Humane Society of the United States' "Be Cruelty-Free" campaign.
The campaign is a global effort to end animal testing for cosmetics and personal care products; interested parties may join at http://www.humanesociety.org/becrueltyfree.
Beauty Without Cruelty, an international brand headed by Santosh Krinsky in the United States, offers a complete line of products produced without animal testing and containing no animal ingredients. Its state-of-the-art formulations are value priced at $8 to $25. All BWC products are certified suitable for Vegans by the Vegan Society UK—the gold standard for vegan ingredient reviews.
"Despite the growing demand for natural, organic and cruelty-free products, many consumers do not know the pain animals endure for the production of cosmetics and other toiletries," says Krinsky, president of Lotus Brands, Inc., a natural products manufacturer with over 1000 products, including the Beauty Without Cruelty brand.
"Rabbits, dogs, mice and other animals are tested to measure the health dangers of raw ingredients. Chemicals, often at much higher doses than humans would use, are dropped into rabbits' eyes and injected into dogs, causing immeasurable pain and suffering," he says.
"How do lipstick producers manage to get that deep shade of red for lipstick? Many use carmine (crushed beetle shells). Buyers of Beauty Without Cruelty products do not want that kind of policy on their conscience, or on their lips!"
Because BWC is constantly innovating, its customers say the quality of its products are superior to mainstream cosmetics, Krinsky says.
"I'd like to commend your products, BWC – the entire line," writes BWC buyer M.S. "Most especially your BWC … botanic lotion (fragrance free). It's 100% better than … synthetic ingredients and works far better."
BWC consumer B.J. writes, "I tried your leave-in conditioner today and love it! I trusted you because I liked your toner. You are my new favorite beauty company. Just wanted to let you know you are doing a great job!"
About Santosh Krinsky
Santosh Krinsky has been in the natural products industry since 1974. He has founded and built a number of companies that offer positive alternatives to the toxins and environmentally unfriendly ingredients found in many products, while focusing his attention on developing awareness about the issue of animal testing of cosmetics, which he opposes. Beauty Without Cruelty (BWC) products brand http://www.beautywithoutcruelty.com was founded in England in 1963 by BWC Charitable Trust, an animal welfare organization. Lotus Brands obtained the American rights to the BWC brand in 2010. BWC features a complete line of hair, skin and facial/body care products and an extensive range of color cosmetics.