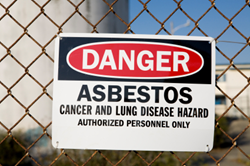 Working in certain career fields could put you at high risk of asbestos exposure
Commack, New York (PRWEB) June 25, 2014
The Long Island law firm of Rudolph F. X. Migliore, P.C. announces a high risk alert to people involved in certain career fields. Working many years in a field that involves being exposed to asbestos could put you at high risk for developing lung problems, such as mesothelioma.
Recent studies and research have focused on targeting mesothelioma stem cells and destroying the cancer at its core*. Mesothelioma is a form of lung cancer caused by asbestos exposure. Attorney Rudolph Migliore states, "We have had clients who had been given a clean bill of health but only several years later, they were faced were faced with a serious diagnosis. This is why regular check-ups and vigilant monitoring are important if you have a history of exposure to asbestos."
According to the U.S. Consumer Product Safety Commission (August 22, 2012)**, asbestos is a mineral fiber that has been used in some steam pipes, boilers, car brake gaskets and linings, clutch gaskets, furnace ducts, resilient floor tiles, cement sheets, millboards, door gaskets, sound proofing material, patching and joint compounds, asbestos cement roofing and shingles.
Even though today's society has been actively working in asbestos-free environments, there are many fields of work still at high risk. Since asbestos was used for insulating and fireproofing, all labor jobs that involved contact with or working within an area near asbestos such as construction, plumbing, and demolition have a high risk of exposure and a high risk of developing Mesothelioma. According to The Institute of Cancer Research (March 4, 2010), "The researchers have calculated that men born in the 1940s who worked as carpenters for more than 10 years before they reached 30 have a lifetime risk for Mesothelioma of about one in 17. For plumbers, electricians and decorators born in the same decade who worked in their trade for more than 10 years before they were 30, the risk is one in 50 and for other construction workers one in 125." It is important to know that mesothelioma is a cancer that takes years of exposure in order to develop which means most people will not see symptoms until later on in their life. Since asbestos has been replaced with safer material due to the effects it has on human health, many buildings and dwellings are asbestos free therefore, the labor trades that used to be affected by asbestos are now at minimum exposure.
The Commack, NY law firm of Rudolph F.X. Migliore, P.C. is currently investigating cases involving asbestos related illnesses such as Lung Cancer or Mesothelioma, on behalf of all people who were exposed to asbestos in the past.
About Us - Rudolph F. X. Migliore, P.C.
In the spring of 1998, the firm began accepting asbestos, mesothelioma and lung cancer-related cases. Rudolph F. X. Migliore, P.C. had conducted a medical screening of retired firefighters exposed to asbestos for the first time in 1998. Out of 210 men who screened, 71 tested positive for asbestosis and filed proceedings accordingly. Since that time, the law firm has been involved in a large number of asbestos cases. The law office of Rudolph F. X. Migliore, P.C. extends its practice of legal services to medical malpractice, defective medical products and medication, and criminal defense and traffic.
*See Verastem Inc, "The Potential of targeting Cancer Stem Cells Through FAK inhibition in Mesothelioma Reported in AACR's Cancer Discovery," June 24, 2014.
**The research involves the American Lung Association, the U.S. Consumer Product Safety Commission, and the U.S. Environmental Protection Agency.