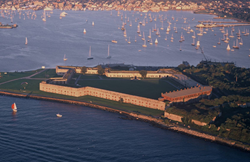 By being relevant, we become more important. We become friends with the community.
Newport, RI (PRWEB) June 25, 2014
The economy has been particularly challenging for many non profits, and the Fort Adams Trust is no exception. In order to fund restoration and programming, the Trust has evolved its business model to include more revenue generating programs while increasing the range and types of activities focused on the community. The twin goals of increasing revenue and good will go hand in hand to support the sustainability of the Trust.
For example, this Sunday, June 29th, Fort Adams will kick off its first 'Newport Rocks the Fort-Concerts and More' from 2 p.m. – 8 p.m. on the parade field inside the Fort. The Fort will rock with 7 bands over 6 hours. Local food purveyors will provide great 'concert casual food.' Coastal Extreme Brewing Company is stepping up to provide their outstanding Newport Storm Beers and Thomas Tew Rum. This is a much more significant effort than the Trust has engaged in previously.
This classic rock event is designed to let people 'Do good, while having fun,' featuring great acts, including John Cafferty and the Beaver Brown Band; Steely Dan Tribute, Hey Nineteen; and Eagles Tribute, Another Tequila Sunrise. Also joining the party is new grass group 'Dynamite Shack,' the funky R&B sounds of 'Corruption Choir' and blues singer 'Mama Dee.' This is a music lineup not to be missed. Attendees will also be greeted by Chakulla and the Hunger Bus at the entrance to the Fort. Chakulla will be performing for non-perishable foods and cash donations for the Rhode Island Community Food Bank.
This concert is as unique as the venue. Fort Adams is the largest coastal fortress in North America; a one-of-a-kind heritage site. This concert series is an exciting step for Fort Adams as Rick Nagele, Executive Director of the Fort Adams Trust notes, "The Fort has so much to offer itself, but when we get the opportunity to host events of this magnitude it shines an even brighter light on this National Historic Landmark's potential."
Nagele continues, "This event will raise money and donations due to Chakulla working to feed those in need, plus gate and refreshment proceeds support restoration of this amazing Fortress. We know you'll enjoy the concert, and enjoy knowing that your admission is in fact a donation to a number of worthy causes."
Dale J DeJoy, concert producer, said, "It was very important to us to have the opportunity to help people in as many ways as possible. This was a great opportunity to link historic preservation, education and relief for families who need it."
This will be the first of two major events for this series. An August 29th concert features Rick Derringer, Rhett Tyler, Hey Nineteen and Chakulla, with the final lineup still to be announced.
The Trust is also initiating a series of free concerts, known as Sundown Thursday's. These concerts are designed to let the local community know that there are things happening at the fortress relevant to their lives. As Nagele says, "By being relevant, we become more important. We become friends with the community."
Both paid and free concerts will include a food court serving 'concert casual Rhode Island favorites' – great food from local vendors. The events will also have alcohol service.
For tickets to the paid Sunday June 29 concert, visit FortAdamsTickets.org.
About Fort Adams
Fort Adams is the largest, most complex coastal fortress in North America, and a National Historic Landmark. The Fort, often considered the NASA of its day, was the 'laboratory' where America learned how to build complex military systems. Today, the Fort is open for tours, site rentals for events, and is rapidly becoming Newport's Adventure Learning Destination.
About the Fort Adams Trust
The Fort Adams Trust is a 501 (c)(3) non-profit responsible for preservation, programming, and promoting the National Historic Landmarks in Fort Adams State Park in Newport, Rhode Island. Over 100,000 people tour the Fort and attend events in the Park annually.