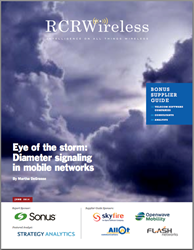 Diameter is basically a language that allows different network elements to talk to each other and to transfer data - Diane Myers, Infonetics Research
Austin, Texas (PRWEB) June 25, 2014
Every time a person uses a smartphone to check email or update a Facebook status, it starts a chain reaction in the mobile network. Accessing the network is just the beginning. After the person connects, servers within the core of the network need to learn who the person is, what she wants to do, and how much data it will take. In 4G networks, this communication is accomplished through diameter signaling. RCR Wireless News released an editorial feature report this week on the topic, titled 'Eye of the Storm: Diameter Signaling in Mobile Networks.'
"Diameter is basically a language that allows different network elements to talk to each other and to transfer data," explained analyst Diane Myers of Infonetics Research. The rollout of LTE is shining a spotlight on diameter signaling, but even in 3G networks, components that use Internet protocol (IP) communicate via diameter signaling.
Download this report to learn more about the following:
● The history of signaling from radius and SS7 to diameter
● Increase in signaling within the core network
● When does it make sense to move signaling to the cloud
Since each request for mobile data generates multiple signals within the network, signaling traffic exceeds mobile data traffic. And as users demand more from their networks, the number of signals per session is also on the rise. This is why some mobile operators worry about "signaling storms."
"Most people are aware of projections for sharp increases in mobile data traffic in the years ahead, but many do not realize that signaling traffic is growing even faster," said Martha DeGrasse, editor at RCR Wireless News. DeGrasse is the author of the recently published RCR Wireless feature report: 'Eye of the Storm: Diameter signaling in mobile networks,' and the host of the RCR webinar on the same topic.
Mobile operators know they need to manage signaling traffic, but they are just starting to learn that diameter traffic represents an opportunity as well as a challenge. "Forward-thinking vendors are showing operators how to extract value from diameter messages, highlighting diameter traffic as a new source of network intelligence," said DeGrasse.
'Eye of the Storm' outlines the many different use cases for diameter signaling in mobile networks, and these use cases are discussed in depth on the accompanying webinar. Click here to access the feature report and click here to download the webinar. Both are available on demand.
Watch the complimentary editorial webinar featuring:
● Martha DeGrasse, Editor, RCR Wireless News
● Sue Rudd, Director Service Provider Analysis, Strategy Analytics
● Charles Wesley-James, Product Manager, Sonus
● Susan Hackman, Senior Product Manager, Oracle
● Pieter Veenstra, Former Chief Architect at KPN, now at NetNumber
About RCR Wireless News
Since 1982, RCR Wireless News has been providing wireless and mobile industry news, insights, and analysis to industry and enterprise professionals, decision makers, policy makers, analysts and investors. Our mission is to connect, globally and locally, mobile technology professionals and companies online, in person, and now on video. Our dedication to editorial excellence coupled with one of the industry's most comprehensive industry databases and digital networks leads readers and advertisers to consistently choose RCR Wireless News over other industry publications. http://www.rcrwireless.com.