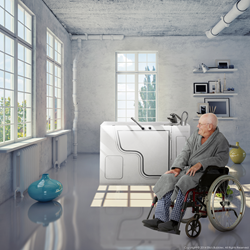 "It's with great pleasure that we've begun offering this newly-expanded line of unique hydrotherapy bathtubs – solving a problem for thousands of Americans who've needed an outward swing door option for getting in and out of bathtubs."
Chicago, IL (PRWEB) June 25, 2014
As an OEM manufacturer and distributor of accessible bathroom products, Ella's Bubbles acutely understands that maintaining independence is a near and dear concern of every walk in bathtub user. Accessibility, simplicity, and ergonomics dictate the usability of living spaces, especially high traffic areas such as the bathroom. With the Textured Acrylic Outward Swing Door Walk In Bathtubs, Ella's Bubbles has poised themselves to meet the demands and quality requirements of wheelchair users, senior citizens, veterans, athletic rehabilitation facilities, or anyone in need of safe bathing.
"It's with great pleasure that we've begun offering this newly-expanded line of unique hydrotherapy bathtubs – solving a problem for thousands of Americans who've needed an outward swing door option for getting in and out of bathtubs," said Eric Bessel, Dealer Support Manager for Ella's Bubbles.
Ella Classic Wheelchair Transfer Bathtubs cater to average-size adults – featuring an outward swing L-shape door, a roll-to wheelchair height seat, and strategically placed grab bars to help its users enter and exit the bathtub with ease. Joining the lineup is the similarly-shaped Titan – a bariatric wheelchair transfer with the broadest seat on the market. And, the Mahalo – a thoughtful bathtub specifically tailored to the petite wheelchair user.
Rounding out the product line, Ella's Bubbles offers the Oasis – a walk in bathtub with privacy in mind – offering an opaque stainless steel door, petite size seat, and easy access to controls without leaving your comfort zone. The Kai shares similar appointments – boasting an attractive tempered glass door. And, in a landscape where we've grown accustomed to walk in bathtubs with built in seats, the Tramo comes in as a unique alternative – a wheelchair-accessible independent bathing experience that recalls the comforts of a full size bathtub, in an effortlessly simple slide-in package.
Any questions regarding Textured Acrylic Outward Swing Door Walk In Bathtubs should be addressed with the Ella's Bubbles customer service department at 1-800-480-6850 or by email at marketing@ellasbubbles.com, or by completing the "Contact Us" page on their website.
About Ella's Bubbles, LLC
Ella's Bubbles – (http://www.ellasbubbles.com) a Chicago-based OEM manufacturer and distributor of acrylic walk-in bathtubs and accessible showers – has spearheaded acrylic walk-in bathtub development, production, and distribution in North America since 2005. They offer exceptional craftsmanship, world-class customer service, and creative insights to help both distributors and dealers enhance their companies.
Ella's Bubbles promotes independence and pleasure through elegant design, innovation, and safety solutions – in clients' bathrooms and beyond. As a trusted industry source, Ella's Bubbles provides the consistency and reliability that businesses and consumers demand when it comes to bath fixtures.
Ella's Bubbles offers friendly, personalized customer support from professionals in our Chicago office – providing fast and effective solutions. They are poised to meet the challenges of the future, and to provide all customers with both elegant products, and peace of mind.