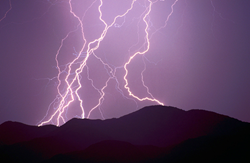 LINCOLN, R.I. (PRWEB) June 25, 2014
Sunday, June 22, through Saturday, June 28, is Lightning Safety Awareness Week, and Amica Insurance has answers to common lightning questions.
According to the National Weather Service (NWS), there are approximately 50 deaths a year from lightning strikes. Amica is sharing information from the NWS to help promote safety during lightning storms:
Q: Is heat lightning different than bolt lightning?
A: Heat lightning is not different than bolt lightning. Heat lightning is what we see when bolts flash far away. It is often a precursor for coming thunderstorms.
Q: Can lightning strike near me even if I'm far away from the storm?
A: Lightning often strikes up to three miles away from the center of the storm, out of range of the clouds and rain. "Bolts from the blue" have also been known to strike between 10 and 15 miles from the storm.
Q: If a person gets struck by lightning, are they electrified?
A: The human body does not store electricity, so someone who is struck by lightning is not electrified. If you see someone struck by lightning or otherwise electrocuted, contact 911 immediately and apply first-aid treatment.
Q: What should I do if a thunderstorm hits?
A: If a storm comes, immediately move to safe shelter, like a home, building or metal-topped vehicle with the windows up. If indoors, avoid electrical equipment, plumbing, windows and doors. If outdoors with no immediate shelter, leave elevated areas and avoid isolated trees. Move away from bodies of water, and stay away from any metal objects – like fences – that may conduct electricity.
Q: Will standing near tall objects direct the lightning away from me and toward the structure instead?
A: Lightning does target tall structures that stick out from their surroundings. However, this won't keep you safe. You could be hit by a "side flash," a strike that happens when lightning jumps from a taller object to a nearby shorter one. It's best to stay away from taller structures like trees if stuck outside in a storm.
About Amica Insurance
Amica Mutual Insurance Co., the nation's oldest mutual insurer of automobiles, was founded in 1907. The company, based in Lincoln, Rhode Island, is a national writer of automobile, homeowners, marine and personal umbrella liability insurance. Life coverage is available through Amica Life Insurance Company, a wholly owned subsidiary. Amica employs more than 3,300 people in 40 offices across the country.
CONTACT: Vince Burks, Corporate Communications, 50 Amica Way, Lincoln, RI 02865-1155, 800-652-6422, ext. 24563
Twitter: Amica
Facebook: Amica Mutual Insurance Co.