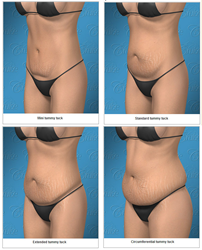 Newport Beach, CA. (PRWEB) July 02, 2014
As a specialist in abdominoplasty surgery (http://orangecountycosmeticsurgery.com/abdominoplasty/), Dr. Joseph Cruise notes that most tummy tuck surgeons have followed the traditional approach of addressing skin laxity and excess fat of the abdomen by viewing the body from a one-dimensional perspective. While this approach does allow abdominoplasty surgeons to evaluate, recommend, and treat the affected area, it hasn't always proved to obtain optimal results in all cases.
"Through my vast experience I have learned to obtain the best tummy tuck results possible a patient must be evaluated from the front, sides, and back," mentioned Dr. Joseph Cruise.
To learn more about Orange County abdominoplasty options, please visit:
http://www.orangecountycosmeticsurgery.com/abdominoplasty/
As one of the top tummy tuck surgeons in Orange County, Dr. Joseph T. Cruise, recognized the deficiency of looking at the body from a one-dimensional view and has since made improvements by adopting a three-dimensional approach when evaluating patients. This enables Dr. Cruise to use his aesthetic eye and expertise to determine which procedure or combination of procedures will provide his patients with the best possible long term result. His goal is to address the body circumferentially to avoid the need for revision surgery.
While many surgeons only offer mini or standard tummy tucks, Dr. Cruise has added the extended and circumferential tummy tucks to his procedure offerings. The vast majority of patients come to Dr. Cruise requesting a mini or standard tummy tuck, because they want the least amount of surgery with the shortest incision possible, however very few are actually candidates. In most cases patients have skin excess and laxity, not to mention fat pockets, which extend far beyond the point where the incisions end with either procedure. All too often Dr. Cruise has patients referred to him for revision tummy tuck surgery, because their surgeon performed a less extensive tummy tuck then needed. This leads to undesirable results, unhappy patients, and the need for additional surgery, which requires more time and money.
Dr. Cruise firmly believes in treating the whole body, front to back, to provide an aesthetically pleasing result. Patients who are a candidate for an extended or circumferential tummy tuck are initially fearful when they hear his recommendation, because they are not mentally prepared for the longer incision. The extended tummy tuck incision is placed from hip bone to hip bone, while the circumferential tummy tuck incision extends all the way around the body. Patient's minds are put to ease when Dr. Cruise explains the incision located on the front of the abdomen, while rare, can be prone to healing issues due to the constant tension placed on it, while the incision extending from the hips around the backside isn't subject to the same issues. In addition, Dr. Cruise visually demonstrates how disproportionate the body will look if only the abdomen is addressed. He explains how having a nicely sculpted tummy will only accentuate any skin excess and fat remaining on the hips and back, resulting in an unattractive result and difficulty fitting into clothing. Not only do Dr. Cruise's tummy tuck procedures provide the most comprehensive results, but they are also performed in a manner which allows patients to wear low cut pants and bikinis.
About Cruise Plastic Surgery:
Cruise Plastic Surgery, located in Newport Beach, Orange County, California, is one of the top plastic surgery practices in the Southern California region. The director, Dr. Joseph T. Cruise, is a fully trained, board-certified plastic surgeon specializing in facelift, breast augmentation, tummy tuck and other cosmetic surgery procedures. Dr. Cruise is also one of the region's best known surgeons for rhinoplasty (nose surgery), neck lift surgery and gynecomastia. His dedication and focus is clearly evident in the comprehensive educationally based web site he manages and the concierge-like customer service his patients receive from the entire office. Experience and predictably good results have earned him the distinction of being one of the best plastic surgeons in Orange County.